Farewell (Project 1)
Everyone in the school have a special attachment and great moments when it comes to the first batch of the school. Therefore having an opportunity of doing something for my seniors, I am ready to go for an extra mile. The opportunity was to make their last day, give them a farewell they deserve to get. One of my colleague + friend, Muskaan Agarwal took an initiative to plan and organize the event; Farewell 2016.
WHY THIS: Firstly being organizer of event, I was undertaking a new challenge. Often I have been a manager or a participant in the event. But planning a event and as managing it was really different for me. This event also helped to identify my leadership qualities and as well as I can connect the process of management with my subject Business Management. I could use the knowledge of importance of human resource, the planning stage, handling the finance (
EVENT DESCRIPTION : This comes under one of the school event therefore, we were having approval and proper financial support from the school. Our first and important goal was of doing an astounding event. To reach this goal we have already decided to give our 100% behind the planning process and as well as the execution. After a lot of discussions and rejections we finalized a theme of Awards. We they being the star of the school needs to be given a celebrity feeling. After we decided the theme. We actually needed to ponder and arbitrate the flow and the activities suitable to the theme as well as the event. Finally, the itinerary included typical award function criteria. If including the anchors, for entertainment dance and drama (in movie/ video form), the categories of achievements, the awards for the achievements, relishing dinner, the proper invitations for the celebrities (Seniors).
ME AND THE EVENT: Even though I am not use to planning, but my partner and I have spent a lot in the planning stage and  have initiated to take and complete our duties. This was the first time when I was the main organiser for the event, and the pressure of making it work and best was always there in my head. Thus, it was very important for me and for my partner to sort out, how will we divide and manage things up. According to the plan we divided the event into three parts which was Designing and Decorating, Stage work (Dance, film, Skit etc), Food. Where we decided that Designing and decorating will be done by my partner and Stage work will be done by me. The food was done by both us because we wanted it to be fantastic. Even though we divided the work but we were clear with all the plan so, we have clear idea in all the departments. This event needed a lot of energy, motivation and hard work while executing the plan.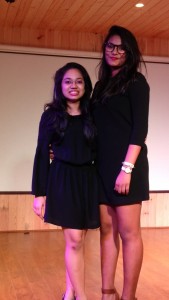 LEARNING AND THE EVENT: We didn't know how to plan or how to make a planning sheet. In this process I learned from one our school admin manager. Which actually helped in giving us a basic idea and to make sure that our aim/goal is getting fulfilled.  Later, I need to make sure that the plan is executed in the way we have actually planned. For that two things which I made sure from my side were that I co-ordinate with my partner and the volunteers in a positive and motivating attitude. So, I need to make sure that I am giving both of them their space and listening their point of views with an open-minded and positive behaviour. I mostly need to make sure that my volunteers are motivated properly because that can only led them to work willingly and make the work effective. So, need to praise them, challenge them, help them and many times even command them to get best out of them. Also, the connection between me and partner was really good. We were friends first, that's the reason we had no misunderstanding and full trust on each other. The connection leaded to have good co-ordination because we already know each other. We knew our strengths and our weaknesses. Thus we could listen to each other and could easily find out the solutions. The other thing which I made sure was that I am committed to my work and just don't leave everything on my partner. Often I had a habit  that when I work with partner whom I know well I used to convince him or her to do even my job but for this event I make sure that this don't happen. I actually divided thing up and make sure that I am contributing equally or more to this event and am not leaving everything on my partner. That's reason I wanted to divide the work in three departments. This decision of mine helped both of us to get involved and committed to the activity from the stretch till the end.
My strengths in the art field was really good. So, that is the reason I actually initiated for taking the responsibility of the stage work. I have already danced and acte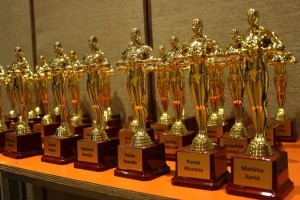 d before. In this, event I developed my skill in writing up the script and making the movie. I have specially learned how to used the movie editor. I understood and learned more about have movie making is done in more detail. This is when I Increased the awareness of my strength and did grow by doing it.  In this particular one of the most challenging area was to persuade or convince people every at every point. Whether it is convincing teachers or school authorities for allowing or permitting about few ideas, whether it is persuading the people to work or handle them in the worst situation. The idea itself was a challenge because this was the first time Fountainhead was doing this event. Also, we needed to take care about the environment of the event. We needed to make sure that the humor we tried to create is not offending. The songs we have choose are appropriate. the speeches and the dialogues are comforting.
At the end, I believe that each one who worked in the event contributed equally to make it a success. I am also glad that I had a great partnership with Muskaan which actually was the reason behind the great management. Because of our partnership there  were less misunderstanding, miscommunication but more comfort. At the end I can proudly say that I have a learned a lot from this first event of mine.