I am Kripa Patel. Currently doing the IB diplom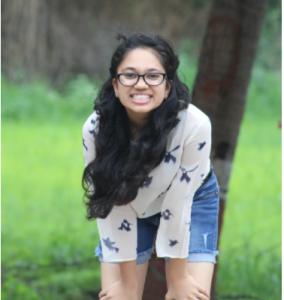 a programme from Fountainhead school. Although, in these 17 years of my life, I have grown immensely overall as a person but my height does not reflect the same. The extrovert personality trait that I showcase, has given me an opportunity to meet a lot of people. I can cook well and I also do a little bit of art, though don't have enough skills. My extrovert behaviour helped me to identify my talent of managing events as well as people.
My interests connects with my talents. I love watching movies, travelling (especially with friends), relishing delicious food, going to parties, listening to music, having fun and at the end having a great sleep. I want to improve my dance and drama skills by trying to give it proper time, but after I complete my IB. Because I am an extrovert, I often get distracted from my goals. This distraction impacts my priorities but at the same time it refreshes me and helps me create great memories. I believe till I complete my twelfth, I would like to focus on my academics and in enjoying my last few day of school life. Later, hopefully, when I enter the next stage of my life, college, I would like to be more responsible when it comes to my spendings, earning and to bring change (within or surround), but again don't want to miss having fun in between. I don't believe in planning a lot, I believe it is better to go with flow and learn from my own experiences. Experiences, which are often given the title of mistakes :P.  
I am at an age where, I am expected to fulfill the expectations of my teachers, my family, my friends my society as well as of my own. These are the biggest concerns right now. I am trying my best to accomplish them but somehow it gets hard to handle, especially, with the pressure it comes. I would like to learn more about how to handle my professional life and the challenges which I come across or I could come across. I would also like to learn how to plan things out because to survive this running world going with flow isn't a better option.
It has been taught that "you should keep fighting and facing your problems". However, the one thing which I always want to do is take a bag, 50% filled with few clothes, few necessities, food and 50% filled with cash and just run away alone for a great trip, to have a good time.