A sport that I immensely love to play. I can and I did put all my efforts in this sport. I have been playing volleyball since past 7-8 years of my life. The journey has been amazing so far. However, after all these years it still requires a lot of practise and new skills to be inherited. And the result is not just shown in the tournaments we play in, but also the self-satisfaction we as individuals and as a team get.
Every year we participate in a taluka level volleyball competition in which our aim is to get selected for the district level. Winning has never been my aim but to get selected in district level was what I aimed for, because reaching a new level gives me and my team a sense of satisfaction. I also think it is proud movement or achievement for my coach too, as all that we are today is because of his guidance to us. Plus, my main goal has always been to develop my techniques and skills and coordinate with my teammates. Coordination in a team game is the most important factor, even if 1 or 2 players are not skill-full we can still win the game by having better coordination. For the competitions that were approaching: I had worked hard for the tournaments as I used to come to school early for the morning camps that we had. But there challenges that I had faced during these sessions. Firstly, because of morning camps i used to spend more time at school that equaled to almost 10-11 hours per day. This caused a lot of stress physically and mentally both, because being the DP students we had a lot of submissions and study plans but due to the physical stress I couldn't study well. This resulted in my time-management problem.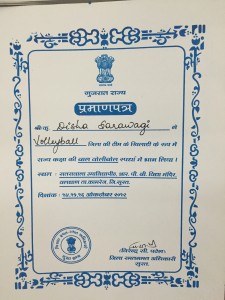 Plus, because of more physical work I used to get very exhausted, as the intake of food was not enough. This also taught me that if i play and workout, I should also give proper time to my food habits. Secondly, it was just 3-4 of us who used to come early for practicing more and developing our coordination. But because the other players from the team didn't turn up for the sessions there was obviously a less probability of us getting selected for the next level. This at times gave a sense of dissatisfaction from the teammates and at times I even got angry about it because being the captain is a tough job that i am supposed to perform well. Everybody is having expectations from me about the players i take in, the coordination we play with and the cheering we do. Cheering and motivation were key factors at the time of game. Because we constantly needed to motivate our teammates to perform their best.
At the end, my team did won at the taluka level and got selected for the district level, we were all proud of each other and even our coach appreciated us. I did have to learn a lot of things like never to lose hope. Moreover, I also got aware about my strength and weaknesses, which I have to work upon to now get selected for the states.