Firstly, was really pissed at school for having the literature and arts fest on a weekend (22nd July – 23rd July 2015), and not just on Saturday but also on Sunday. I mean, who likes to come to school on a weekend? I was hoping for a nice 2 day break from school, studies, tests and deadlines – but no, our school won't let us have a weekend to relax.
Anyway, I got to know on Saturday that there were many activities happening, separately for Arts Fest and Literature Fest, all over school in different places. Here is the list of few activities:
Arts: Music, Line drawing (Still life), Mehndi, Rangoli, Thali/pot decoration, bBest out of waste, Salad decoration, Photography, Quelling, Dance and many more

Literature: Scrabble wall, Bingo, Logo quiz, Anagrams – time bound, Crosswords, Cross and Zero, Just a minute, Spell Bee, What's the good word, Debate, Ads to ad up (Creating adverts for products) and many more
Later I got to know that there was going to be competition between the houses (our school has 4 houses – Integrity, Dignity, Unity and Liberty) and the points will be added to individual houses as per their wins. This got me excited. It ignited the patriotic feeling for my house, which is Integrity.
I had taken my camera with me for photography, as a volunteer, so I had to roam all around the school to capture all activities. While going around I met few of my classmates and they forced me to participate in few activities only because there weren't enough participants. So, I took part in Anagrams. Where jumbled words are given and the right word is to be formed. We were 4 students in a team of Integrity. There were going to be 2 rounds, in the first round I was able to guess the maximum number of words. Before the 2nd round more students turned up to participate, but everyone still chose me to be 1 of the 4 to be in the team. We won because we were able to identify the most number of right words than the other houses. I realised I was good at this. Before Literature Fest, I had no clue that something like Anagram existed. It was a new discovery for me and by me.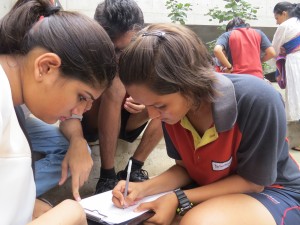 I also took part in Ads to Ad up. Where you are given a product for which an advertisement has to be designed. I had gone there for photography but was forced to participate as the team needed a person good in drawing and creative. We could only have 7 people in team and there were 11 of us. So we split, and I was in a group with students one to two grades below me. I was kinda disappointed because I wanted to be in the same age group as me. Everyone had to design an advertisement for a pen that only writes the truth. We all took a moment to let the imaginary and weird product sink in… I could relate the "only truth" with one of the book I had read (Divergent) and with that I suggested that we keep the name "CANDOUR" and then we began thinking about the tagline and other things that we plan to include in the advertisement. After some time it dawned on me that we need to consider the global factors into our advertisements, and we can't limit it to just India or any one country. Few members from my group left so I gave my idea to the other Integrity group and made only one advertisement from our house. We came up with a good advertisement but none of us seemed that satisfied. We submitted it, we could have done much better if we had more time. There were in all 4 advertisements and in this also Integrity won. Everybody appreciated my contribution.  
There was Zumba being played in the assembly some my us started dancing and others joined. It was fun, all of us were dancing with great coordination.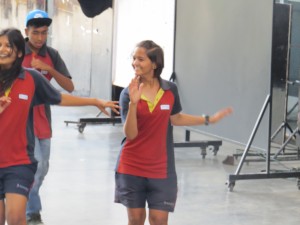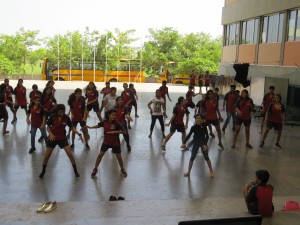 Having a camera with me all time kept me busy, otherwise there were chances that I would have been bored the first day and then wouldn't have attended the second day. In the next fest, I would participate is as many activities as I can so I wouldn't need my camera. 
I was glad to attend the fest because all I would have done if it was not for the fest, is sleep. I am looking forward to the next Literature and Arts Fest.