Organizing the Garba Fest <3
Never in my life had I organized an event, nor did I ever imagine that I could. Garba Fest is an event that I am absolutely proud of; not only because of its success but because of the thrill that it gave people as well as the help it did to the society. It included Creativity as we had to be creative to have decorated the assembly and service as it was a fund raiser.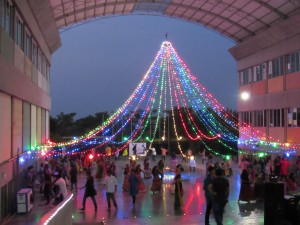 This plan just started as an idea of a fundraising event, but as we advanced with the plan the motive was not only fund raising but also give the students of fountainhead school an opportunity to celebrate a much loved event along with all their friends and teachers. The first thing that we had to do was to choose the departmental heads which was hard as we could not give our friends priority, so we went along with the method of interviews keeping the ethical concerns in mind(not being biased). Initially we did not have a really detailed plan when we appointed departmental heads; however when we started having meetings and started taking into consideration other's ideas and opinions we eventually came up with quite a well detailed plan. This taught me the importance of collaborating with the team members we had. During the rigorous planning  stage of 2 months I discovered my areas of weakness which were effective communication and negotiation which I worked upon during those 2 months.
Everything was very chaotic at the beginning and it was becoming harder to follow through the plan however when we started sticking to the plan religiously for the whole month, things took a positive turn. I learned that organizing any event is hard work however the fruit is always rewarding; in this case our reward was the huge amount of money that we collected for donation.