A Day with Orphan kids
What else can be more special than spending sometime with orphan kids from Charlie Help age. We did some activities with them like ice breaking session, card making, zumba, painting and we showed them a movie as well.
I personally had an amazing and really helpful experience. Spending time with those kids made me realize  that I am blessed to have such a life with great opportunities coming my way and I should appreciate everything that I have today instead of looking for more. Those kids were so lively that seeing them I couldn't feel as if they lived in an orphanage and had something's missing in their lives.
Initially I wasn't comfortable with those kids as this was my first experience with orphan kids and it took me sometime to get involved with them. However, when we started dancing and when we started with the activities I was able to come out of my comfort zone and interact with those kids. This made it easier for both, the children and me to enjoy the rest of the time with each other and know each other better.
This activity involved a lot of teamwork as we had to make the kids feel comfortable because this was their first time of going into a school, meeting new people and spending a whole day with them. Our synergy brought them closer to us and working together as a team made it easier for us to entertain them and not make them feel as they have something less than us.
Throughout the activity everything went very smooth, we were able to mingle with the kids and so were they and all of us were comfortable with each other except one child. The entire day that child did not utter a word neither did he participate in any of the activities. This led us to ponder about what was it that was disturbing him. Till the end of the day we were able to cheer him up irrespective of the fact that we did not come to know exactly what he was thinking about.
There was one thing that we had to be very particular about. That was considering the ethics of our choices and our actions. Ethics played a major role in the way we treated the children. We had to be very conscious in the way, that we treat all the children equally so that we don't hurt the feelings of anyone of them.
I learned a lot of things from this activity:interacting with strangers and make them feel comfortable around me, working together as a team, and most importantly being satisfied and happy with what I have. Above all this, what gave me true happiness was seeing the children enjoying themselves to their fullest and forgetting about everything else.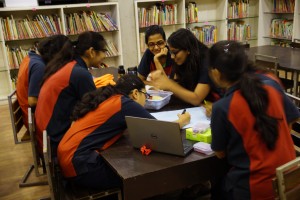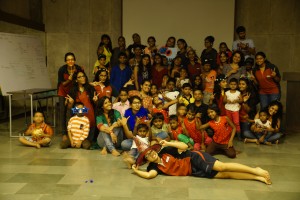 Planning for the activities to be conducted