Hindi divas
Hindi Divas was a fun event to celebrate the existence of the language For this event  we had to organize various activities. Swani and I  were the head of 'Arre Bhai Kehna Kya Chahte Ho?' For this which had two rounds: First was Dumb Charades (Songs) and second was Taboo (Movies). We planned the game, made rules and decided the rounds which were a fun process
We  worked together to decide  rules, movies, and songs.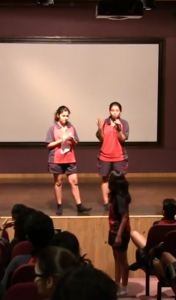 We got agitated  when the seniors claimed that we were biased to our grade as they got easier  movies/songs as compared to their grade. We were really upset when the doubting our integrity, However, we explained to them that we were ethical  as  before the game started we made the teams pick their own chits and hence we did not have any biases
While the event  took off  I was nervous, however, as time went by and I  saw  the enthusiasm of participants, the level of my anxiety reduced. I am that kind of a person who cannot speak in public, yet, it changed me in a way that it made me more confident about myself. The activity was small, but its effect was much big for me.
I wished we could get more time to organize the activity. so that we could make it more creative and engaging and also that we could enjoy other activities that took place