Bal mela
This was an activity that I was very familiar with but it was the first time that I had actually volunteered for it. Bal mela is an event that is hosted every year by fountainhead school for underprivileged kids so that they can enjoy a few pleasures of life that they are not as fortunate to experience as us. This year I volunteered for the category of running stage. The running stage team created a playlist on which we made the underprivileged kids dance. It was quite a workout and we also had to spontaneously create steps which require a lot of creativity on our part.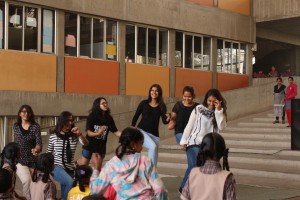 There were a lot of kids, more than 1000 maybe and it was really difficult trying to handle them, However we took it as a challenge and in the end we did manage to handle all the kids. We had a strong team work, and we had to collaborate because the kids had to follow our steps for which all of us had to do the same steps. That I felt was the most difficult part because I was in the crowd with the kids and the others were on the stage so my friend Kripa and I thought of a solution in which one would stand facing the stage and the other would have their back facing the stage. That way we could effectively copy all the steps that were being done on the stage and simultaneously keep the kids engaged. This way I also developed the problem solving skill in me. Dance was already my strength but doing dance on the spot was something I learned. I had to be careful as to interact with all the kids so that none of them would feel left out and also because we were the privileged ones we had to be careful so as to not hurt the kids' sentiments by showing off (even if it was done unconsciously. E.g. through our clothes or our difficult steps).
I learned a lot from this fest and seeing the display of talent in those kids really made me question my own paradigms and taught me that those kids are not fragile and I shouldn't treat them like they are because they are just as strong as any privileged kid I have met. In the end the smile on the kids face made me really happy because it told us how much they enjoyed the mela; it warmed my heart knowing that all of our efforts had paid off.