Activity 2: Session with IIMUN Amby Valley Students | Service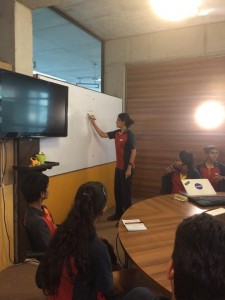 I conducted an orientation session with students from our school who are going to be participating in a Model United Nations conference. As they were mostly first time delegates, I believe I helped them by imparting the knowledge I have gained by having participated in various Model United Nations Conferences.
Helping my juniors made me feel very good about myself, because the purpose of Model UN's is to help the world, and helping the world begins at home. All the students seemed very eager to listen to all that I had to say, and this helped me feel confident in my speaking skills.
During the course of this session, I was able to identify the skills I had learnt in MUNs and I tried my best to help the junior students learn these skills too.  I also talked to them about how the typical MUN schedule works and gave them tips about research and preparation, which I believe will help them make the most out of their MUN experience.
Even students who I thought would not be interested in an activity as challenging as MUN conferences seemed to be enthusiastic to start researching  for and participating in them, which led me to change the perspective with which I saw many of my juniors.
In the future, I hope to conduct more sessions like this one, so that I am able to raise awareness about global issues, leadership skills and public speaking in my school.