FLASH MOB
GROUP PROJECT: FLASHMOBS 2015
GROUP MEMBERS: Unnati, Avina, vidushi and sakshi (me)
This was the most interesting activity I have ever done.It was very different, spontaneous and challenging. It was a totally new concept to me as it contained performing in front of audience, talking to them, gathering their interest and persuading them to bring a change in a society.
FLASHMOB 1: On the occasion of Independence Day 15th august, 2015
ISSUE: RELIGION AND CAST
HELD IN: VR mall
Flash Mob was an initiative taken by me. It was just a spontaneous idea which had struck me at the night of 13th august 2015 and the next morning I discussed it with my friends in school who appreciated it. I wanted to do the Flash mob on 15th august 2015 the day when India got its Independence. I thought it was a perfect day to do a flash mob but it seemed impossible because there was a lot of work to do in a very short period of time. We immediately approached our sc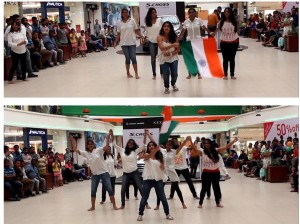 hool coordinator and gave a brief idea of what we intend to do, surprisingly she appreciated it a lot and motivated us to implement it. A Flash mob is a large public gathering at which people perform a random act or a dance and then disperse. It is more of a shock to the audience. Knowing that we had only one day to choreograph the dance, learn it, and teach other members seemed tough however we knew that if the four of us work together we would definitely make it, and we did. From that day itself we started working REALLY HARD! We needed at least 15 members however nobody was ready to join us at such a short notice, many thought that we were likely to fail as we just had a day to practice. We our parents, relatives,neighbor and friends gathered outside school. We were glad that they believed in us. Back then, we were a group of non-dancer and dancers, who had put all the efforts possible to take a step towards humanity and bring a change by increasing awareness in the society. When the day arrived we realized that our event was a huge success and the hard work paid off. It's not important whether we danced well or not it's important whether we were able to gather people's attention or not. And I am very proud to say that we gathered the attention of the whole mall.
By this activity I learnt a lot: I learnt that no matter how tough and impossible the situation is if we have the confidence in ourselves we can make every impossible thing possible, and that is what we did. We did start to lose hopes but we did not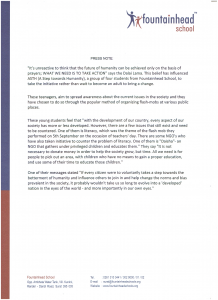 give up, because we knew we are not alone, we are a team and we are always there to support each other no matter how tough the situation is. These were the benefits of working together as a team. I took up a lot of challenges, I did things which I had never done before such as: speaking and singing in front of at least 500 people, dancing (which I had never done before on such a huge platform), organizing the whole event and making this spontaneous idea successful, motivating the team members at every stage. I had took up the responsibility of a leader which was very challenging but worth a learning experience for media knew my strengths such as: organizing, managing, creativity etc. these helped me gain more confidence. As our first flash mob was on religion and cast we tried to show that there is no such thing like cast and religion, it is the ideologies of the people who create different groups, but in the end we are human beings and we have to have unity within us and each other so that we could face all the problems together. We took this issue on Independence Day because we wanted that with the celebration of this auspicious day we spread another message which can is as important as independence. Independence is nothing without unity between people of one country, one nation and to bring that unity back and erase the gaps of difference, casts and religions we decided to start small and organise this event in a mall where could easily find people of all casts and all religions.
We did have some ethical concerns as to we should not hurt anybody's emotions while performing. In the drama which we did it was all about how people boycott Muslims and the ideologies which people have for Muslims. This could hurt somebody's emotions which is not ethically and morally right.
FLASHMOB 2: on the occasion of Janmashtami 5th September 2015
ISSUE: ENCOURAGE EDUCATION FO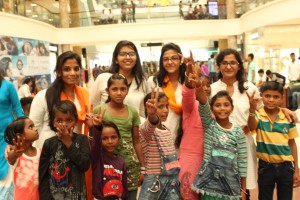 R ALL.
HELD IN: VR mall
After our first flash mob we learned from our mistakes and took care of not repeating them in this flash mob. Our first flash mob motivated us to do another one as well, so we decided to give this group a name. After having a few meeting with other heads we ended up with a name of this group as "ASTH" Every letter was for a specific word and so the full form of this is "A STEP TOWARDS HUMANITY" .we also decided to make a Facebook page to gain support from the public and now our we are proud to say that our Facebook page has 376 supporters. We also sent a form for the people who were interested in volunteering to help us bring a change in the society. This form was spread in our school from grade 6-12. We collaborated with the NGO named "DISHA" which works for the same cause of education the under privileged children on the footpath. I worked with this NGO for 2 months and so we thought if we collaborated with this NGO we could have a better impact on the audience. We prepared a dance which the kids of this NGO did. We intended to collect funds for these kids so we had a donation box where people had donated money and the net total of the funds collected was around 6,700. We were well organised this time… We choreograph our dance before sending the forms to the interested participants, this led to less burden on us. We were a group of 40-45 people in total including the kids from the NGO. It was a very tough time teaching them and organising practices outside school on Saturdays and Sundays so that all the participants are on the same page. We also had early practices where I as a head was very committed and determined towards my work and did not miss any practices. We spoke t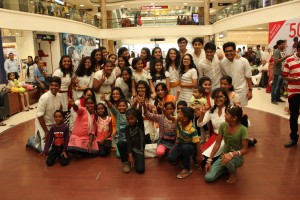 o our group members about why this issue is so important to create awareness of and why we are doing the flash mob on the first place. This helped them with a better understanding of what and why we are actually doing this… By this  we saw a lot of improvement in our group members as the days passed. This was mainly because they really wanted to help make a change and so they cooperated with us at every stage. It was a challenge for us to manage and teach all the 45 members of our group. However we (heads) took this responsibility as a new learning experience and tried to put the best efforts. There were many problems which took place during the event such as: the sound system did not work properly which might have led to problems in communication. However, as we could not do anything about the sound system on the spot we made sure we keep this mistake in mind for our next flash mob. This time we couldn't even imagine that we gathered the attention of almost a 1000 people who were eager to watch us perform. If we do not consider the problems which we faced during the event, I think that the event was a great success as the main purpose was to gather the attention of the audience and spread aware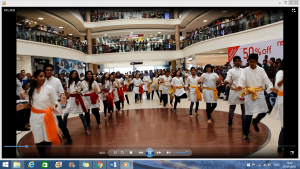 ness to a larger audience.
FLASH MOB 2: On the occasion of navratri 10th October, 2015
ISSUE: WOMEN EMPOWERMENT
HELD IN: school party (GARBA FEST)
We got the opportunity of mobbing a party which was organised in our school. We followed the same process of sending forms and selecting the best dancers as this was our last Flash mob and we wanted it to be perfectly organised and performed. I learnt that before catering to the society we should begin with our home and spread awareness among people with whom we meet daily. We should always start small in order to diversify later. This time we incl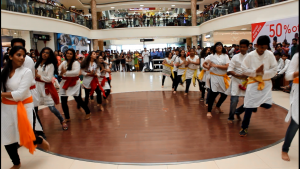 uded stunts and more complicated dance steps to gather audience's attention. As we selected the best dancers, this time we were just a group of 20 people. This was a huge challenge which we took up as we also had exams coming up in the month of October. However, we were committed and determined enough for this activity and managed our time well in order to work in a balanced way. We took up this issue because we wanted to empower girls and women (teachers and parents) working and studying in our school in order to fulfil the purpose of starting small. We all worked collaboratively during practices which showcased our hard work and teamwork during the performance. We all had different strengths which played a major role during the whole organisation of this event. It's my strength that I have a good grasping power and that I can also choreograph dances which helped us during the initiation stages of this flash mob.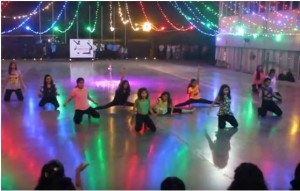 These series of flash mobs were experiences worth spending time for. During the preparation stages we not only worked but also made a bunch of memories which we will remember throughout our lives. Organising flash mobs helped me work on my areas of growth such as building confidence, fear of audience, speaking skills, persuasive skills etc. I think that I had put all the efforts I could do to help make these series of events successful with other heads and all the group members.