ISA french fest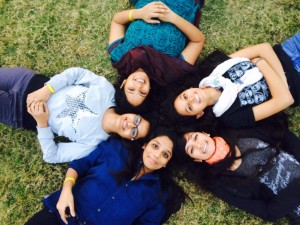 New things are always welcomed in my life, provided that they are exciting. Learning French as a language definitely was. Initially I chose French because I couldn't handle Hindi, but after a month I really started liking the language but what really made me fall in love with this language was the ISA trip. This activity included creativity as I took part in activities that needed me to be creative like singing. I decided to sing my song without the karaoke and therefore had to think of variations to add that could obscure the need for an instrumental background.
In the school we did have a lot of exposure to the language but after going over there and hearing strangers speak in French and trying to grasp their pronunciations, made me want to be able to talk that way in French too. The fest included several activities but I choose to take part in an activity that was in my comfort zone, Singing. However it didn't quite turn out to be very comforting at all because I had to but in monstrous efforts to learn the lyrics and get my pronunciations right. I had always known that singing was my strength but singing a French song was a real challenge. Therefore for about a month prior to the fest I tried really hard to perfect my song and was dedicated to it. I am glad that I was because it made me win the competition.  During the month that I was practicing I realized that I was good at mimicking accents, which I skilfully used to my advantage to try and perfect my pronunciations.  I am really glad that I didn't back out from this challenge because it really helped me learn the French pronunciations better, not only for songs but for my academics too.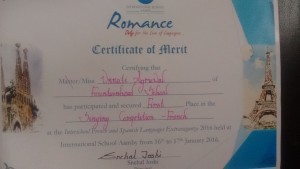 While planning for the trip my group had only decided for specific activities that we were going to take part in however when we reached there the thrill of ambiance of the fest made us took part in spontaneous activities like face painting and Tableau. It was really fun but it did require a lot of collaboration on our part as we had really less time to decide our strategies. We required collaboration in setting up our stall and I have to say that I have never seen a better display of teamwork in my life. And that mixed with the fitting name of the fest "romance", made me fall in love with the language of love itself.