Vocals Inter school Competition
This activity was mainly to take a step ahead to places or events where I can upgrade myself, develop areas of growth, take challenges and take full advantage of my strengths. I was selected to represent my school for inter school vocals competition. Personally, I think I don't have confidence in myself which is what pulls me back from doing things by which I can define myself.  I am a good singer and I am always recommended to select the songs from Shreya Ghoshal albums as people say my voice is very similar to her voice.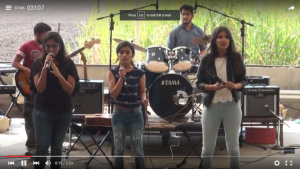 First I took part in inter house competition where I was awarded the second position, after this achievement I gained confidence and started preparing for my inter school competition. During my practices I had severe throat infection which was a major drawback, because of which I lost all hopes of winning.My confidence level had become even less than before. However, I took it as a challenge and started working upon my song and had put all that it takes to perform better. I was proud that I didn't give up, although I did not win but I think the most mandatory thing which matters is that I participated. Due to my throat infection I used to practice more and so that I don't screw up on the day of competition. I was committed towards my duty and went to practices outside school as well so that I could improve upon my mistakes.
It was very important that I work cooperatively with my teacher. My teacher (Somnath Sir) and I made sure that we point out every mistake that I made and work on it so that it doesn't make my performance weak on the day of the competition. I just knew that I cannot let this opportunity slip away from my hand so I worked with full dedication. I have a stage fear which has always been a reason of me having less confidence. However, by this activity I was able to work on my stage fear, it helped me improve upon my stage fear. I got really nervous when it was time for me to present my song and there were places where I made mistakes but it did not sound that bad. I was happy that I at least made an effort to participate.
Overall, I think that apart from the challenges I faced I was able to define myself, and develop the areas where I need to work to some extent.