ASTH-A Step Towards Humanity
This was the most interesting activity out of all that I had done so far. It demanded a lot of efforts and time.For the first time,I did not feel stressed when it came to working hard for an event.
We were a group of four girls. One of them came up with this idea of performing flash mobs to create awareness in the society regarding issues that are commonly ignored people,while we were planning for our project work. Basically flash mob is a large public gathering where groups perform an unusual act and then disperse.13th August was the day when we discussed the brief plan and came to a consensus of taking it up as our project. It was a completely different concept for the four of us. We decided to execute the plan as soon as possible.
Nothing could be better than having our first performance on 15th August-Independence day, is what we thought. Keeping the occasion in mind we decided to take up caste and religion as our issue. Everything was planned. However, when it came to executing the plan everything seemed to be impossible because there was a lot of work to do and we had very less time. Without wasting our time we approached our mentor and discussed what we had planned for. The minute she approved we started hunting for a place to perform. What came as a challenge for us was deciding venue. We had planned to perform in a mall because that is one place where we find people from all religions. However, only deciding wouldn't have helped. We knew it was difficult to convince the head of event management department on such short notice. Surprisingly, when we had a talk with the head they granted us the permission to perform in their mall. Now we had only one day to gather volunteers,choreograph dance and teach the them. Without wasting any of our time anymore we started looking for volunteers. Nobody agreed to join us and because it was a spontaneous plan many of them though we wouldn't succeed. At the beginning we were only 6 people and we needed 9 more volunteers. Because nobody was willing to participate, our family members, neighbors and friends from outside the school helped us and together we made a group of 15 members. It felt really nice knowing that there were people who trusted us and believed in our ideas. After a lot of practice and fun rehearsals it was the day. After seeing the crowd applauding we realized we did it. We turned a spontaneous plan into a successful event, one which will always remain with us.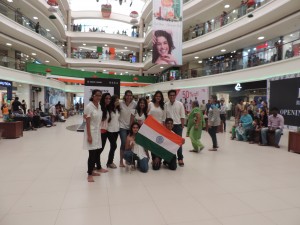 That one performance had taught me a lot. It taught me that no matter how difficult things appear to us if we believe in ourselves and have the courage to stand up, we can get through every problem with a smile. What made the four of us through with this problem was the synergy and understanding that we had between us. The benefits of working collaboratively were clearly reflected. On a personal level I did face a lot of challenges and tried overcoming them as well. One of which was speaking in front of an audience. I have a fear of public speaking which through this act reduced to a certain level. Organizing and managing the event, handling the team members and motivating them at every stage was also something that came up as a challenge to me. By taking up the responsibility of a leader I managed to overcome this challenge as well.
Through our performance on Independence day we tried to showcase that there is no such thing as caste and religion. Instead of grouping ourselves into categories we should stay with peace and have unity among ourselves, because with unity we can win any battle. There were a few ethical considerations that had to be taken care of. One of which was to make sure that even indirectly nobody's sentiments were hurt. Post the event we got a lot of appreciation from our parents, peers and teachers and therefore, we decided to make this idea official and name our group. After a lot of suggestions we decided to the name the group as ASTH. Every letter of this word had was special. ASTH signified "A Step Towards Humanity".
Having done all of this. We decided that every flash mob that we will perform will be held on an occasion. Therefore, grabbing the opportunity of performing on 5th September, on the occasion of Janmashtmi we started with our planning before hand this time. Because we had ample of time, this time we decided to circulate a form in our school to gather participants who actually wanted to bring a change in the society. For our second flash mob we collaborated with DISHA-an NGO. This NGO works for the cause of educating underprivileged children, and knowing this we decided to take up encourage education for all as our issue for performance on the occasion of Janmashtmi. This time we had round about 40-45 members including the children from NGO. Seeing these many people join us to bring a change, made us happy. With the happiness came along a lot of pressure of work. Teaching so many people at the same time and calling them for rehearsals early morning in the school and on weekends was not an easy task. However, we managed to do all of this as a team while supporting each other no matter how difficult sometimes the situation was. For our second performance we had prepared two dances and a drama. Out of the two dances one was performed by these kids. This was again a successful event especially because we were able to collect funds for the underprivileged children. The reason we collaborated with the NGO was because we wanted to do something for the education of these kids and by keeping a donation box wherein every member standing in the crowd could donate money for the kids, we were able to collect a huge sum. The total amount that we gathered was around Rs. 67000. Having taken the leadership of the group I was committed to my work in way that I made sure I attended all the practices on time whether it was early morning in the school or on weekends. Apart from the fact that we had a lot of time to prepare and make sure not to repeat the same mistakes, this event was successful because people who had taken part were putting in a lot of efforts and were devoting as much time. They really wanted to bring a change. While reflecting on our second performance we realized that there was a lot of improvement and that there was still scope for more. We listed down a few problems that we faced during the event was in place so that we take care of them for the next time. While the drama was going on we faced a lot of problems with the sound system. The mikes stopped working and all of us started panicking a little. We were all confused as to what should we do on the spot, because if the mikes wouldn't work the people wouldn't be able to hear our voices and our performance would eventually be hampered. We started losing hope, but we did not give up. We started shouting on the top of our voices to the convey the message we wanted to and fulfill the purpose of coming and performing for the kids. As a team we did an excellent job.Everybody was really proud of us and so were we.
Learning from our mistakes we organised the very last flash mob of ASTH. This time instead of performing in a mall we decided to perform in our school on the day Garba fest. One of our friends organised this event in school on the 10th of October and they allowed us to crash their event and perform a flash mob. Volunteers were gathered the same way as before by circulating forms. This time we were a group of only 20 members. And because we were less in numbers compared to the previous time we had to give our 100% to grab the audience's attention. The challenges that I faced during the last flash mob were not because of the practice sessions or the time management but because of my academics. Managing the event and preparing for exams simultaneously was a difficult job. Nevertheless, like before as a team we gave in our 100% and cooperated with each other to make this last flash mob a perfect one. Women empowerment was our issue for this flash mob. In order to begin from home we took this up as our issue for performance in school because this is that one place where we study about women being discriminated and treated badly all over the world.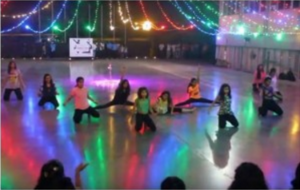 Facing ups and downs, overcoming all the challenges that came in our way as a team we created ASTH. All of us had different strengths and weaknesses. Combining all the strengths and eliminating all the weakness we made these series of events successful. Everything that we did was as a team. After our last flash mob we decided to make a Facebook page where we could be in touch with the public who supported us and helped us take a step towards humanity and create an awareness in the society. What if we couldn't continue with our performances, what makes me happy is the number of followers that our page has gained within a short period of time. The number of supporters itself is enough to show that humanity within people still exists. This activity has given me a lot to remember. During the entire journey of performing flash mobs for social cause, apart from learning I have made some beautiful memories. By taking the responsibility of managing this event I seem to have gained confidence in public speaking and improve a little on my persuasive skills.