ASTH- Practicing Humanity_30-08-15 to 10-10-15_Creativity/Activity/Service
"Dance to express, not to impress"
ASTH (A step towards Humanity) is an organization that was started by some of my companions, havin
g the aim to create awareness about current problems of the society/world in a creative manner.
I have always participated in activities that have dance in it, though for the first time I danced for a cause. I relished the times that we spend for practicing and performing.
5th September 2015– Our first flash mob was on teacher's day and its theme was 'Education for all'. We had to dance with the under-privileged children from DISHA NGO (which is the major cause of this event). I was dedicated to the practices that we had. However, the timings were hectic and I learned how to manage while completing all my academics work as well as stay committed in all the practices.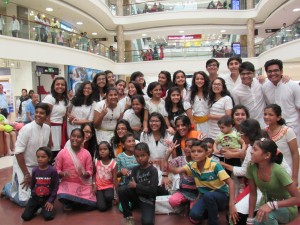 Before the last week of our performance, we had regular practice after school which was demanding and laborious, yet I attained each one of them. Simultaneously, with practicing we made many posters so the intensity of the impact on the people increases when words are added.
After this performance, we asked people in the mall if they could give money to a charity to educate the children of DISHA NGO. I was surprised by the responses that people gave; they were ready to give as much as they could.
The idea of this theme was strong and was of global significance.
As we asked the children to dance with us, therefore we had to make sure that we do not make them feel out of the place in front of the audience.
One of the problems that we faced was that the sound system of the mall was not good enough to grab everyone's attention which decreased the intensity of the impact that could have been created. Although we tried our best to pass on the message to as many people as we could.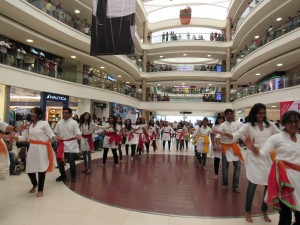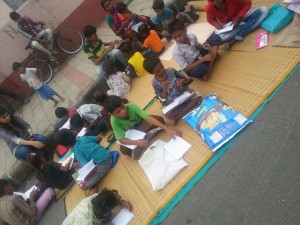 ---
At the start my plan was to take part only in one flash mob, however, as the first flash mob was amazing,  I participated in the second flash mob whose theme had a soft corner in my heart and I felt strongly about it.
---
10th October 2015- In an event called Garba Fest and our theme was 'Women Empowerment'.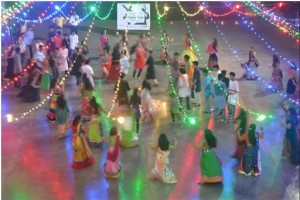 The best part about this event was the suddenness in which our performance started. We chose the songs based on the theme of the event, which was India's folk dance Garba. One funny thing was that people started dancing with us normally. From our previous experience with the speakers and music, we improved the speaker quality to get louder which certainly caught more attention and created a stronger impact.
At the end of the performance, we gave a small speech about empowering women of India as a small change will lead to a big one. One thing that we knew from the audience's lively response, was that somewhere they understood our message fulfilling our purpose.