Harness your passion- Dance (Garba) _5-7-15 to 5-10-15_Activity
---
One thing which I am always ready to do is to dance. One thing that I will never stop loving is dance.
---
Learning a new style has always been my area of interest. As one the Indian Festival (Navratri) was coming, I got an opportunity to learn Garba- an energetic folk dance of Gujarat.
I have always seen people doing Garba and also tried it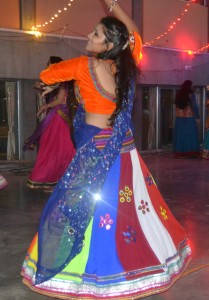 myself. Therefore, I knew some basics of it.The moment I started learning, I started loving it more. We learnt different numbers of Garba, 32 which has thirty- two steps and 12 which have twelve. As I knew some basics, at the start it became for me to learn but later on as the steps became longer, it became difficult to mesmerize them with perfection. After learning the majors, we started to dance on fast beats which were challenging at the start but eventually I accepted and adapted the course.
I actually developed the technique to flow with the flow, like the lachak (suppleness) which was not an easy part for me. I learned that by practising the dance style on a daily basis. I was enjoying every moment but then diminishing marginal utility happened. And I was losing interest in the latter weeks. Although I made sure that I learned variations in hand moments which kept my interest; helping me to stay committed to attaining practices daily.
The after effect of learning Garba was the one that was like a cherry on the cake. We organized a Garba Fest in which I could implement my new learning and it helped me to cherish every moment to the fullest.