The Global Social Entrepreneurship Summit!
THE GLOBAL SOCIAL ENTREPRENEURSHIP SUMMIT
The Global social entrepreneur summit was held in Mumbai for 3 days. Its was organised by the American school of Bombay in February 2016. I participated in this activity with a goal discovered my areas of interests and to meet knew people. This summit invited people from various different parts of the world such as : Turkey, Jordan, India, Bangladesh, United Kingdom etc. On the first day, I regretted my decision of coming to this summit as i could not gel up with people, i was loosing my confidence. But as time passed i made acquaintance with new people.  We visited Dharavi which is a whole new world in itself. We were taken to Dharavi on the first day itself for our tuning in activity and we had to explore, ask question, identify problems etc, which would eventually help us to construct our social enterprise plan. Basically, We had to create an enterprise plan which would serve and help eradicate problems which people in Dharavi were facing.  
Personally, I am an introvert and it is a very big challenge for me to interact with new people with very different backgrounds and cultures, I always fear about whether they would like talking to me or not, or whether am I making sense while conveying a message. I wanted to make this weakness a strength and try to overcome my fears.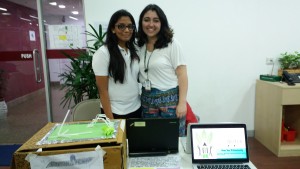 Winning from other groups was not the main goal for me at that period of time, Winning from myself or MY OLD SELF so to say was my main focus. However, my strengths overpower some of my weaknesses, I have this strength to cooperate very well with others and work on the assignment given, thinking creatively and being loyal and honest.
For making this enterprise plan, We were required to work in groups. For making the group there was an activity where we had to write what surprised us and what were the problems we discovered on which we would like to work upon. Surprisingly, I found people who had similar thoughts as me and people who wanted to explore the similar problems. So we formed a group of 4 people, 2 people were from turkey and 1 from Bangladesh and I.We had to come up with a creative idea which is beneficial, very less costly and which could help the society to a greater extent. We worked collaboratively and devised a plan of our enterprise which helped to improve education and employment. We developed a prototype which exhibited our creativity and presented it to our viewers. Some people really liked our work and we got a lot of appreciations.  
Apart from all the work, I made new friends and the best part is i am still in touch with them. I feel that this activity really helped me develop my areas of growth and new skills.This activity perfectly incorporated the three strands of CAS: Creativity, Activity and Service. I don't regret my decision of volunteering for this summit, Because it taught me lessons of life which will help me grow as a person. I am looking forward to volunteer for more such summits. It was a wonderful experience.