French ISA Trip
The International School of Ambey hosted a french and Spanish language competition in Ambey Valley, Lonavala. I participated in the poetry reciting competition, Face Painting, storytelling and stall decoration. The biggest challenges faced were that when we went to this trip we had just started learning French and it had been just 6 months of us learning French and our competitors were at the advanced level.Some were learning French since 7 years. However, I made a goal to participate and attain an experience which would also help building more knowledge.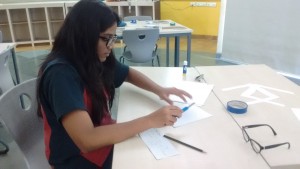 For the poetry competition, my goal was to develop my public speaking skills, confidence and throughout the competition I focused on understanding french.i think I did well because one of my strengths are that I can learn things very quickly. We didn't get much time to prepare for my poetry, i had to learn it in a day. However, I think I performed quite well.
My friends and I spontaneously gave our names for the face painting competition as we wanted to explore and learn as much as possible. I think the selection of judges was not right as they had selected people who didn't have any background of French language. I felt that my art piece was very good and different than others. I felt that it was unethical of them for considering their students and giving them the first rank. we were not even considered. But, i think i will prepare well for the next time.
For me it was a wonderful experience because it gave me a good opportunity to make good connections with my French teacher and know her better. I also made great memories with my friends.