Trip to Naggar.
I belong to a family which absolutely LOVES travelling, so I had been on a lot of treks and trips in the north before I took this trip with my classmates. And just like I expected, this trip was also an amazing, spectacular and beautiful one.
As a part of our grade trip, we had decided to go to a beautiful place called 'Naggar' near Manali, as soon as I came to know about this, I was very excited as I had been to Naggar before and knew that it was an amazing town.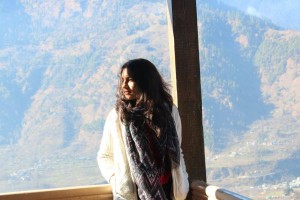 Even though it was my second time going to Naggar, this trip was one of the best treks I'd been to. We got involved in walks, activities, rides, sunsets and so on.
One of the challenges I faced in the trip was the immense walking and physical exertion. Especially, during our long trek to Rumsu village, I noticed myself getting very sick and exhausted. Since I am not a very athletic person and dont work out daily, I had some difficulty in maintaining my strength throughout the day. However, out of fear of missing out ( 😛 ) I still continued every single day despite my legs aching badly. I realised that I needed to work on my fitness. Luckily, we were taught yoga and exercises almost every evening, so I could incorporate those in my daily routine once I got back to surat.
One of the best things about the trip was the kindness of the local people, I had so much fun talking to them and knowing about the history of Rumsu, it showed me that despite having little resources, these people made the best of what they had and were very contended with it. They respected themselves, everyone around them, nature and especially their cultural values. We even saw the house and works of a very famous artist, we saw paintings, their rooms, the architecture, their books etc. And as someone who loves knowing about art and history, this was one of the highlights of my trip.
We also indulged in adventure activities, like skiing and tubing, as I am not a very adventurous person, this was a bit of a challenge for me, but since I had friends who were motivating me, I tried it anyway and had a LOT of fun! Turns out, we shouldn't say no unless we have tried it.
Since, we were on a school trip to the himalayas, we had to be ethical and judicial when we were using our resources, we had to be careful that we did not waste too much food or supplies and kept everything clean.We tried not to use plastic bags and bottles, and to not waste too much electricity. Further on, we also had to make sure we did not litter as it would spoil our natural resources.
Since we were on a grade trip, it was important that we adjust as group members and not become very demanding, we had to cooperate with each other and share what we had for the common good. Also, all of us were happy to do that as this trip gave us a much needed break among the hustle of submissions and deadlines.
I was a new student, so this trip was very special to me as I made a lot of new friends, and memories which I am going to cherish for a life time, there were some conflicts among our classmates, but all of us resolved them with ease and understanding. I got to know a lot of people in my class in a way which I wouldn't have in school, we heard horror stories, danced, celebrated new years, laughed, played cards and as someone who shys away from making new friends, this experience was truly eye opening for me.
Overall, this trip was a very memorable experience filled with adventure, historic knowledge, horror stories, yoga and fun!