It is harder when it is not normal!!!
I have been interested in the subject abnormal psychology for ages now and I am clear that I want to take it up as my career. Also my passion for social work along with my interest made me come to a school called Shree Nandan. It is a school where kids, with difficulties coping up mentally, were guided and nurtured.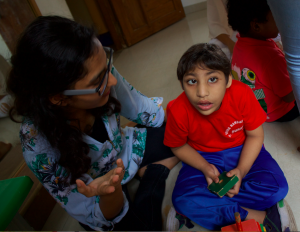 I thought that spending a day with these kids would make the kids happy as well as give me some experience make me appreciate what I have a lot more than I do. All of that did happened, but this experience taught me a little more than just that. I thought that spending a day with them would be easy, but I was wrong. So wrong.
The very first thing necessary to be able to handle kids is to be able to communicate with them, which is already a difficult task with normal kids, and it becomes 10 fold more difficult when dealing with kids having difficulties because they can not understand us like normal kids do.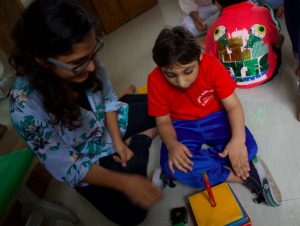 The first thing that we did was learn about some of the problems they had after which we went upstairs with them to pray. This I think was the most touching part of this whole experience. I could see that those kids were happy even after dealing with so many problems, and their voices held so much hope and happiness when, as a part of their prayer, they said "I can do anything"; It really inspired me and made me realise how big a problem this is. Millions of kids worldwide face these problems but they don't have schools like shree nandan to help them our. This made me happy that I could help out even if it was on a very small scale.
After the prayers the kids were divided into 3 groups and the ones with children who had the most difficulties were sent upstairs and that was the group I chose. We had to make them play simple games dealing with alphabets, shapes and numbers, and we had to try and talk to them and keep them busy doing little tasks that enhance their cognitive skills. It was difficult for them to do what we said but I could see that at times when they were able to do it and were appreciated by us, they seemed really happy. Also it was difficult for us to decide how should we approach them as the slightest thing could disrupt their calm.
I worked with a friend of mine who helped me whenever I couldn't think of thing to cheer them up and this really helped as we could divide our work which made it easier for both of us. In the end we also had a group dance which we all enjoyed. It made us feel more connected to them and I think it made them feel more like us and hopefully made them happier.