Heaven is where the Himalaya's are!
 I always wish to rest and retire in the Himalayas. – Disha Sarawagi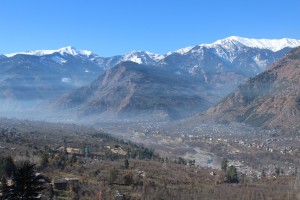 Naggar, the capital of Kullu for more than 1450 years, which is famous for its apple, the great architected temples and the customs/traditions of the Himalayan people. Two friends and I planned and executed the entire trip. This was the best trip I had ever been too in the valley of himalayas, as I was with friends who were like family. The trip started with long journeys from Gujarat to the Himalayas (North).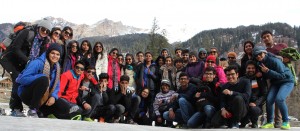 Himalayas is as beautiful as it sounds to be. Chilled atmosphere, adventure and good food is what all I need. We started with small treks in  Naggar and then thrilling adventure in the Solang valley. I love going for adventurous trips and all my life i had just heard about skiing, snow sports and trekking. But this trip marked a tick in my bucket list, as i could finally do all of this. 
I felt scared and adventurous both at the same time. When we went to solang, I did snow tubing and skiing, which I had never done before in my life. I was very scared and nervous till my chance has come. Looking at people who did it already, gave me confidence that even I can do it. Finally when my turn came in the queue and when I did it, all the fear just went off with the experience itself. I can't put it in words how amazing it is to slide down from the top in the chilled air.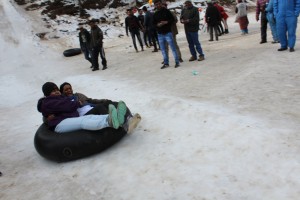 Later after snow tubing, it was our turn to do skiing. Skiing sounds very interesting but it's not as easy as it seems to be. We were given half day training or knowledge about skiing as it is really difficult as it requires proper balance and the activation of your 6 senses. While I did skiing, I was able to grasp all that the trainer told us to do. Thus, i was able to balance myself on the skates and save myself from falling. Plus, because i was able to balance, the trainer asked us to try the difficult routes with more cuts and turns. This gave me more motivation, confidence and much more joy. Learning and doing skiing is one of the best memories i have got from this trip.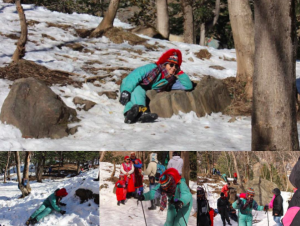 Plus, while we got the exposure of doing yoga and trekking, I realised that I can further improve my health and fitness by working hard -physically, and i realised how much essential it is for us to eat good healthy food. We used to go for treks everyday (until a week), treks whose routes were long and hard. One day it took us 5-6 hours to reach the top (Rumsu village) for which we where supposed to trek till the top of the mountains and climb more than 1000 stairs. I realised how on regular basis it is very important for me to do cardio. However, we successfully reached the village with a bag of happiness and our body been aching at the same time. 😛 
 Overall, this trip has taught me a lot about myself like I should work hard and improve my stamina and endurance, unity within friends and these simple joys of life.