Make a difference! Spend a day with special kids! – CAS Project
My friend and I conducted a CAS project where we gave a platform to students where they spent a day with kids with special abilities. We organized an event where students from different schools came and spent a day with special kids.
"All Kids need is a little help, a little hope and somebody who believes in them"- Magic johnson
When I heard the term CAS project, I always wanted to do something new, out of the box and to do something that I have never done before. Well at first I had the same common ideas that almost everyone had when that got to know about CAS project which were organizing a sports event or an arts event. However I wanted to do something new and I wanted to do something which was out of my comfort zone which benefit me as well as to something for the society. Meanwhile when I was figuring out about what type of a CAS project I should do, I came across an article from a newspaper which talked about the difficulties that "special kids" face in today's world. After reading the article a thought came to my mind that- I didn't know the problems that these kids face in today's time until I read the article, so I thought that how many people know about disabled kids and their lives and that is where an idea can to me– "how would it be if my school mates spend a day with these special kids?"
After deciding the idea, my friend and I started to find schools which are for this kind of kids. However this was one of the hardest part of our project as it was very hard for us to find this kind of school because the city that we live in(Surat) doesn't have that many schools for these kids. After two weeks we found a school called Sree Nandan School, this was a newly opened school which had 30 students with special abilities. We then spent a few weeks planning a half-day activity which included art and crafts, sports, games, learning activities. We regularly worked collaboratively with the teachers of the school, with consistency, and constantly kept updating our participants to ensure that we understood every process correctly as there was a certain way that we had to behave with the kids. We prepared the schedules, and separated the 30 special kids ( ages 5-18 ) in groups according to their intellectual levels.  This planning was a new challenge for us, as neither me nor my friend had organized an event before, and more importantly, an activity of this scale regarding special kids and mental health. One important ethical consideration that we did was to make consent forms for the parents of the special kids, which we sent to them 3 days prior to the event.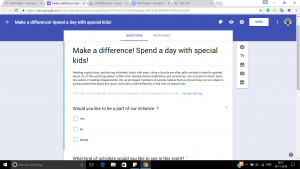 After finalising the school we started to advertise our event on social media and in our school. Our school had a very good response towards the event and we had around 30 students just for which had a very good response, as we had almost 30 students how were interested in participating in this event. The activities that we finalized were Puzzle making, Musical Chairs, Cricket, Friendship bracelet making, Poster making and different outdoor games.
Everything was going smoothly, all our activities were planned, we had gotten all the resources, we went to the school 2 days before the event and helped to set up everything, but that same day, our school announced that there was an important compulsory meeting on the same day as our event. We really got Scared as all our participants would be going to this meeting, and we wouldn't have any participants at all. To find a solution we called the principle of that school to ask if we could postpone our event, however the teacher said that she had already informed the parents so we could not postpone the event. Getting 30 new participants in 24 hours was a big challenge for us, We didn't know who we would convince, how we would explain everything to them so quickly, however with collaborative work of our volunteers we somehow managed to get a few participants.
The day came where the event was going to happen, we were very anxious about our event, however we were ready as we reached early and with the help of the teachers and volunteers, we were able to quickly prepare everything and set everything up. Before the event started we also held a session where we with the help of the teachers educated the participants about how to behave with the kids, which activities to perform with them and how to help them if they needed it. We sorted the participants in groups as well and told them the work they would be required to do as a team.
Throughout the day we engaged in various activities with the kids. We rotated the groups so that everyone would have a chance to interact with kids of all intellectual levels. Everyone worked collaboratively, whether it was making the acts indulge in craft activities, or whether playing outdoor sports with them. Because of the learning of our school policies, everyone was also very careful not to waste the resources they had like- paper, paints, colors etc. Through efforts together, the entire event went smoothly.
After all the activities were over, we spent some time just talking to the kids and dancing with them. One of the best feedback we got was that one special child who hadn't talked in 3 weeks had spoken because of the efforts of one of our participants. After the kids went home we held a feedback session for the participants. The response was great as they spoke how this experience had created a difference in their mind about mental health and special kids, what they had liked and what they thought could've been done better.
After conducting this event I got to learn many things like- Consistency as throughout the planning of the activities, we had to be consistent with our meetings with the school so as to ensure proper execution of the event, getting to know these kids life, improving my quick thinking skills as we had to get new participants for the event just before two day left for the event. Ethical concerns  as we had to prepare consent forms for the parents of the special kids and also inform our participants about what was expected of them. We also had to be careful that we did not waste the resources and how to behave with the kids. Having patients is also what I learnt from this event as we had to be a bit patient while we were conducting the activities. Due to this event my collaboration skills has improved massively as we had to trust each other in certain time like- Getting new participants and during the event.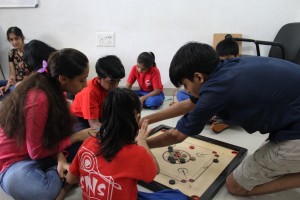 There were also some areas where I could work upon like- we should always have backup help, and resources, for eg – that day we did not have enough activities and materials to play games with so we could have pre planned accordingly and we also had to get some new participants at the end moment due to the meeting in our school that every student should attend. In these kinds of events, I realized that it is important to take decisions rationally and take the charge, which is something I'd want to work on which would help me in future.