Organising Farewell for seniors
For my CAS project, I chose to organise the farewell of the "now" former grade 12 students of my school. I really wanted to take charge of this event because of my personal interest in event management which is the reason why I informed the authorities about my interest almost one year before the event had to be planned. When the time came, I came to know that I had to collaborate with my classmate Kripa which was actually good news because we are good friends and she in my opinion is very capable.
Before we started the planning, we knew there were two big challenges we would face.
First being that the event demanded utmost creativity to make it as entertaining and memorable as possible for the students whilst using emotions to connect to each and every student in a personal way.

and second that the finalised date of the event, was just before two days my final exams for grade eleven started. Meaning that in the following one month, I had to work for the event as well as coordinate studying for my examination.
Needless to say I took up the challenge to organise the event. We started planning for the event by first discussing what the theme of the event should be. So that the whole grade eleven felt that they were a part of the event, we decided to act democratically and always collaborated with everyone for the decision making process as everyone's opinion mattered. The theme that was finalised was the red carpet where all the grade 12 students would be celebrities and would be presented with an award for one of their qualities. With that we came up with different ideas like a dance performance from grade 11 and teachers and making a video based on how their day goes around in school.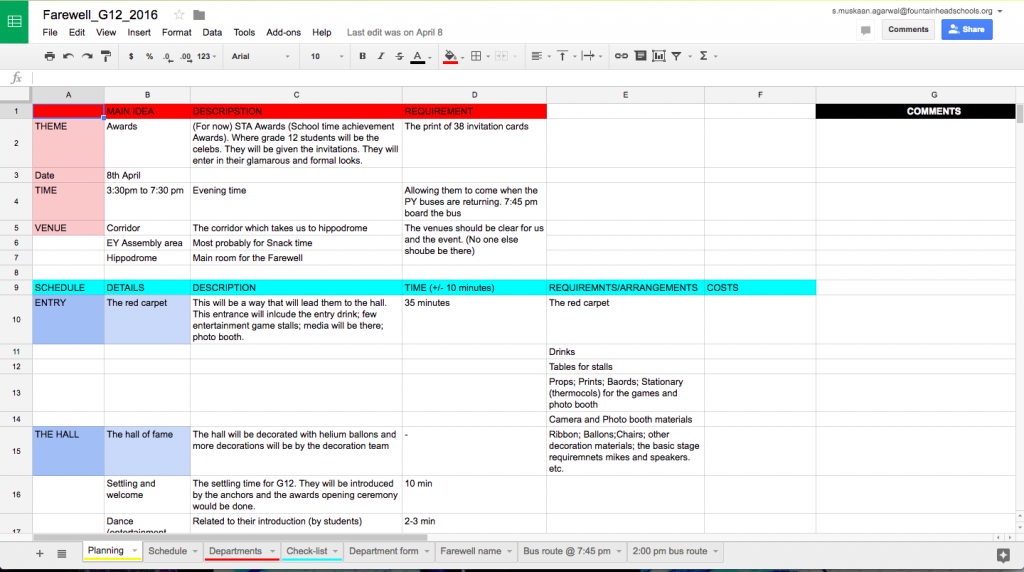 Kripa and I came up with several other ideas that could be incorporated such as a slideshow displaying teachers comments. We wanted to make it as interesting and realistic as possible so we decided to print invites. Vanshika my classmate was well versed with editing so we took help from her to design the invitation.
Now the big work started. Because it wasn't a small event and there was so much work to be done, the whole grade was divided into groups according to their preferences and where assigned departments such as the Decorations department, Photo booth, Game planners(who decided what games were going to be played), Technical department, dancers, filmmaking and acting. For the next couple days preparations were going on I had to be updated about everything. For that bit I really felt stressed and thought what have I stepped into because of the pressure of exams and managing 40 people wasn't as easy. We also had to make sure we acted ethically from holding ourselves together to always being fair and doing the righteous thing. Kripa and I had to work really hard to get jobs done as beside managing these departments we had to design the trophy, Decide the menu, arrange transport and above all of that maintain a budget. We almost had at least one meeting every day for 10 days where we ordered all the material that would be needed, Approved of the trophies, decided the menu with the chef, finalised the location of the event, ordering the cake, designed the banner of the photo booth, arrange transport and decide the time of the event.
When it comes to organising an event, our school give us the full liberty to explore and really experience what event management in real feels like because we have the opportunity to work from the scratch and being a part of this event really gave me an unforgettable experience for my future.
THE DAY OF EVENT
Well the main day on which the event was taking place was full of crisis and mishaps. Kripa and I divided ourselves so I looked at the food, decorating and other stuff whereas she finished the movie that was supposed to be made. I wasn't aware of the fact that the venue(Amphitheatre) of the event was already booked by junior grade teachers for practise. They did not want to negotiate and did not understand our situation which really got me frustrated. The event would begin at 3:30 PM and the hall wasn't going to be free until noon. Which meant EVERYTHING including decorations, dance practise, on stage practise, sound check has to be done within three hours.
Finally it was noon and we were given the venue. Although there were mere conflicts between my classmates, but all was sorted later on. Everyone came together even the people making the movie video and teachers who were free to complete decorations and everything started going in the right direction FINALLY. Everything was in place, the cake and trophies arrived, the hall was decorated, dance practise was over, the food was in place and everybody rushed to get dressed. Grade 12 students arrived at the venue and everyone was looking as pretty as the venue. I was extremely happy and proud of myself at that point of time. The show started and we performed and it was a wrap.
To sum up, I am very happy that I was a part of this project. It did hamper my examination but that I is what I have learned. How to work in pressure and how you've got to be prepared for crisis and most of all how to keep calm and think before you act. This project really gave me insight into how this profession works and how "People" management is the key to event management. In the end the appreciation from grade 12 students and all the teachers truly brought peace and made all of the hard work worth it.
Video of Kripa and I giving Acknowledgement speech (After 1:41)