Profile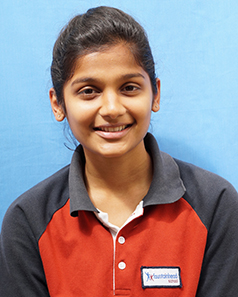 My name is Pranjal Bhansali and I am 17 years old. I was born in Mumbai, Maharashtra on 5th March 1999 and was brought up in Surat, Gujarat. I joined Fountainhead School in Grade 5, and have been studying here ever since.
Basically, my talents and interests include- playing Football and Ultimate Frisbee, strumming Guitar, once in a while, debating and sometimes being a role model for a few and dancing. I mainly enjoy playing all kinds of sports and games. When I was young I used to skate at the state level, I have also been part of state level championships for Athletics (long jump and hurdles). Later, I gained interest in Football and have been playing the sport since grade 6. Apart from Football I enjoy adventurous activities and trying new sports; like rock climbing, rappelling, squash, billiards, table tennis etc.
I try to take interest in current affairs, but reading has always been a problem for me. In addition, to strike a balance in personal wellbeing, I make sure I do well at academics too, as it is equally important. When I was young I used to take Trinity exams (communication skills) and used to participate in oratory competitions along with spell bees. But as years passed and I got caught up with school and Football, I stopped participating in extracurricular activities.
Even though I am an extrovert, I can only stand a few people's company. Many say that I am a strong girl and a role model for a lot of people. I strongly believe in self-growth and anything that hinders it affects me greatly. I try to take a clear stand in places where it is necessary and fight for what I believe is right. I am very short tempered and it does affect my relations with people, but I try to avoid instances like that.
There are a lot of things that I enjoy doing and the same amount of new things that I would want to learn. I did start playing drums a year back but stopped because I lost interest. Now, I think I am getting it back and I would like to play and learn drums again. Moreover, playing a grand piano has always fascinated me and my mother, apart from singing. If I get a chance and time to spare some time for music I would like to indulge in that.
Life, for me, is unpredictable, and I like it to be that way. I have always been a person who goes 'with the flow'. I believe it is important for each one of us to think little about the past and future and live the present to the fullest. This has helped me in most places, but when I think about everything this way I end up procrastinating and not working at all. There are a few things that define me- smart, sporty, rage and lazy. As funny as it sounds, this is me.
I don't feel for world issues too much unless I actually encounter them. When they strike me, it is not for long, I try to take a few steps towards it and then the fire is gone. But there is one thing I am very intolerant about, i.e. unfairness in the sports sector. I strongly believe in fairness, at least here. Everything that has been up in India and sports is not very pleasant to hear; but when the stories of athletes, participating in Rio Olympics came out, I was impressed by the efforts.
I would always want to be a person my mom asks me to be. A rational yet selfish being. Family is very important to me and friends too. I try to keep everybody happy and strive to fulfill everybody's expectations. Like everything else, this is both good and bad. It affects me sometimes but other times it does bring the best in me.