The time I spent time with special children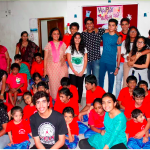 I have never in my life volunteered or spend time with mentally challenged kids (special kids) and this was the very first time I do
so. I volunteered to spend time with special kids in Shree Nandan school and help them learn/ play with them. Initially I had no clue how I am going to go about this activity and how I am going to converse with the children in the school as I did not have any experience.
In the starting the kid wasn't really able to converse with me as she spoke gujarati and I wasn't really fluent with the language however I tried and did my level best to speak and converse with her and no matter how crooked I spoke she understood, which really made me feel appreciative. 
I was able to identify what difficulties she faced when the special child was learning about different animals and shapes as she knew what the names of the animals were but was not able to put the correct shape into the the board cut according to the shape. After some time she was really bored therefore we went to the area where all the children were about to play musical chairs. It was really satisfying to see these kids enjoy and play happily which even made me happy.
Definitely this activity made me knowledge about special kids and what kinds of difficulties they faced. It was something out of my comfort zone which is the reason why I was uncertain of attending the activity at first however now someday I might volunteer for a similar activity.