Teacher's Day'16
Like every year even this year teacher's day celebration was organised by our grade. Because this is our last year in school we wanted to celebrate this day in a way that was unforgettable. To make this day a memorable one for all our teachers we did a few things that we thought would make this day special for them. Firstly, we made a video that was a complilation of all the times we'd spend together followed by a dance performace. My friend (Unnati) and I were given the responsibility of choreographing the dance. The whole idea behind the dance performance was to express our feelings and love for our teachers.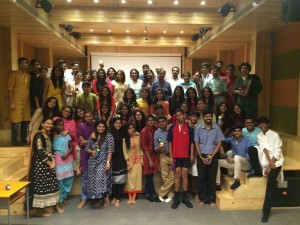 We had planned for a drama cum dance where we had one of our friends become the HOS. We had to organise a lot of meetings to choreograph the dance. During those meetings is when I identified my strength of choreographing a dance. Apart from identifying my strengths I got to learn a lot more things which helped me enrich my knowledge about this particular activity.
What came up as challenge for me during the preparation of this event was to manage my studies simultaneously with the workload of this event. Studying for the exams and at the same time being fair towards my other responsibilities was being really difficult for me. Due to the tight schedule and limited time at first I thought I wouldn't be able to do justice to both the responsibilities, however towards the end I did smart work and  was able to manage my time effectively.
For an event to be successful working together as a team is extremely important. Unnati and i did the same. In fact, all the members in our grade worked collaboratively to make this event a huge success. Coordinating with all the classmates during the preparation and execution stage of this event is where my team spirit as an individual and my inputs to the event comes into picture.
Overall, this was one of the activities that I'll always remember because I had real fun with my classmates and teachers and especially because I have a lot of good memories of this day.