Naggar Trip
Trekking has always been one of my hobbies because it gives me a chance to be close to the isolated part of nature in this world. So naturally I couldn't miss the school trip we had.
I went on a school CAS trip to Naggar which is the capital of Kullu. There I mainly did trekking and adventurous activities like skiing and snow tubing. These activities were mainly for my personal development.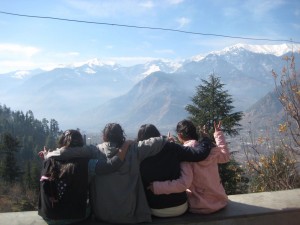 Initially I thought that we won't be able to have fun like we did in all our other school trips because it was a CAS trip. However when we got there, the pleasant atmosphere and the beautiful view changed my mind.
Waking up early in the morning was really hard as it was so cold but the view from the castle was BEAUTIFUL. Also the early morning short walks really put me in a bubbly mood. I had been trekking all my life but this was my first trek after the 3 year break I had taken so I was not in practice, which made the uphill treks really difficult. 
On the D-day of the we did a lot of exciting activities like skiing, snow tubing and shopping. I had tried skiing for the first time and it was the most amazing thing I had tried there. First of all I couldn't walk because of the cold and heavy shoes. When I fell down in a funny position I laughed so hard that I couldn't stand up even with the instructor's help. It was one of the best moments I had on the trip.
Even though this trip was not as great as our last trip was, which included water sports, I did have a lot of fun.