Organ Donation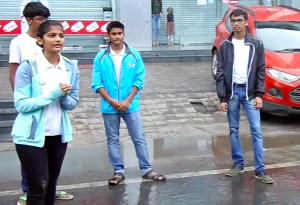 *the man in the blue jacket.
U-turn is street fair conducted every sunday in my city Surat, people come here and show their talents and perform something for the locals. On 13th of august there is a Organ donation day, so one of my friend thought of making people aware about the importance of the donation of the organ after they die. Donating organ is very important and this activity led many people to sign an agreement to donate their organs when they die. There are very few organs available when needed for a transplant and this small activity/ Drama in front of people could solve one of the global issue.
This was the first time I would be performing in front of hundreds of people and it was in a form of drama. Drama is performed live, it has to be interesting then only people would watch it and the most important thing is not have fear while performing. So performing in front of local people and conveying our idea to them was difficult because some people seem very disinterested as the crowd would think this is some type of a lecture or it isn't very relevant, we tried and acted the script 2 time but that didn't work out, and that's where we thought to improve our demonstration skills to communicate better; we now started off by shouting in hindi "SUNNOO SUNNOO SUNNOO" and that's where we got the attention we needed. Again we had a fresh start with the act on organ donation, why is it necessary and spoke upon many more things. This way I showed commitment towards the activity, but at some point of time when no one seems to be interested from the crowd, still we tried again and again, which did made it persuasive to many adults. While working in a group we supported each other  by helping in learning the script and got ideas which could help to improve the effect of drama on the local public.