CAS essay
CAS as a core component of DP is something that has helped me realise that there is more to life than just studies. Because it was compulsory, I did things that I didn't know I was capable of. It made me caring, balanced, and someone who takes chances and initiatives.
Over the course of about one and a half year I have either initiated or taken part in many different activities but some of them were such that gave me a sense of pride. Those two activities are the garba fest which was a one time Navratri celebration in our school, and ASTH which was initially a small idea which gave rise to an activist group working for the welfare of others. Both these activities were initiated by me and I think this is why they are very close to my heart. Also these were not meant only for CAS; I did them for myself which is why they are different from all other activities that I have done.
Garba fest was initially just a fund raising event but as we started the planning things and organising stuff we got so excited that our motive was not only fund raising but also giving the students of fountainhead school an opportunity to celebrate a much loved event along with all their friends and teachers. The first thing that I learned was that organising any event is hard work however the fruit is always rewarding. I developed the skill of working under pressure, and because this was the first event that I was organising the pressure was higher than ever. I am glad to have done atlas one fund raising event because nothing compares to the smiles on excited faces of underprivileged children when they see new things being bought for them.
ASTH started with a small idea of four friends wanting to do a flash mob on independence day to spread a good message in the society. The first flashmob that we planned was just the day before we performed it. But the MOST important part of this first experience was the thrill and satisfaction it gave me. It felt so good to be able to gather as much crowd and help spread a good message in the society. We never planned for this one flashmob to turn into 2 or 3 flashmob. It was the satisfaction that all of us got that motivated us to that this a step further and give this thing a name. We came up with the name ASTH as an acronym for A Step Towards Humanity and turned this into an activist group on the social media.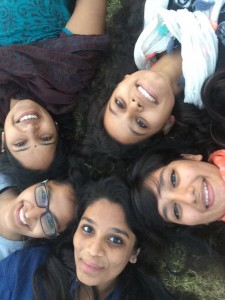 While doing all of these activities, the most difficult learning outcome to achieve was the one about considering the ethics of our choices, especially in ASTH, because we took up various societal issues and it was hard to consider how different perspective could offend some people, however I am proud of the fact that we managed to pull it off. This also made me want these experiences in my collage life too, because I never want to let go of that proud feeling I get when I either help someone or help the society grow. It has made me take a decision that I will continue to work on ASTH and probably turn it into an NGO, so that it doesn't just stay as a school activity.