Activity 4: Teachers' Day
Every year, Teachers' Day is celebrated in our school on the 5th of September. Since the past 3 years, I've been a part of this event. It is the perfect, most accurate day to exhibit our affection and care for all the teachers of the school. This year, the teachers' day was celebrated on the 4th of September, 2015. We, Disha, Aarsh and I planned to organise this auspicious day.
I developed my organizing skills, learned how to juggle with time management, and also improved my communication skills with my co-partners. Moreover, it was difficult to coordinate with all grade, ranging from Grade 8 to Grade 12. To collaborate with all the grades effectively requires a lot of efforts.
This time, and it was the last year for Grade 12, we, (Disha, Aarsh and I) decided that Grade 12 should do something unique, innovative and special for their subject teachers. Whereas, for students of Grade 8 to 10, it was decided that they would be appointed a section of a grade ranging from Jr.Kg to Grade 7. Here, I faced a lot of challenges. To keep track of the practice of Grade 12 performances, and allocating different section to the senior year students was burdensome. Thus, organising such an event requires commitment and perseverance.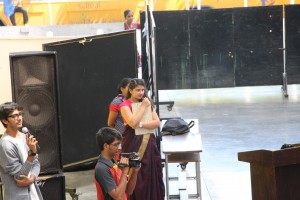 I would like to appreciate the support of my partners, Aarsh and Disha. Without them, this event wouldn't have been so successful, impactful and ecstatic. The three of us had struggled a lot during giving the allocation of junior grades. We tried our best to be fair to all the students of Grade 8 to Grade 11. Giving equal rights to everyone during allocating the classes to the students from Grade 8 to 11 was our another aim besides making this event a successful one.
Lastly, the thought of giving all the teachers a card with a rose (colours: yellow and red) was remarkable. This day will be a memorable day for all the teachers that because of such an exclusive idea.
If I evaluate my performance, I'll be giving myself a 9 out of 10 because I have worked really hard, developed my decision making skills and gained confidence in organising huge events. I have also learn to accept new challenges and work on my weak areas. As far as I know, I have not received complaints regarding the collaboration with the volunteers or the event. From the beginning, till the end, I have tried my best not to be unfair to any of the volunteers or teachers. I believe, that the event was successful because of my perseverance, my coordination with Disha and Aarsh, and the support of all the volunteers and teachers involved.