"Just keep swimming!"
"Challenges are what makes life interesting, overcoming them is what makes life meaningful"
Inspired by this quote, I decided to take up a big challenge as a new years resolution –> to swim everyday for an hour!
I am not a very athletic or active person, and would rather curl up in my bed and read a good book in winter than go and swim in the chilly water, however, I was determined to conquer this challenge and become fit.
I already knew the basics of swimming but started training under my coach, who was very strict about the methods of swimming and made me work very hard every single day. In the initial few days, I would come home very exhausted and drained and would sleep immediately…and in the mornings, my entire body would ache, additionally, it took me a lot of efforts and pushing from my mom to get the willpower to wear a swimming costume in the cold weather. I was very close to giving up, but since I had promised myself to try this activity for at-least 30 days, I continued going and stayed committed.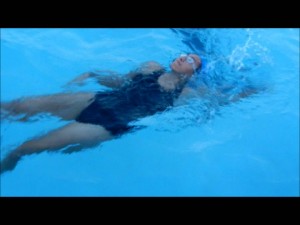 .
With time and practice, my strength started increasing and I would not feel so tired, soon, I would actually look forward to my swimming lessons. My coach taught me a lot of new styles like butterfly, backstroke, breaststroke and so on, he also taught me breathing exercises. In this manner, I learnt a lot of new skills as well.
However, I realized that I needed to work on my stamina and also improve my sense of commitment as I would skip classes on some days, I also had to increase my strength for enduring cold and had to remove my habit of being lethargic. There were certain ethical considerations which I had to keep in mind, like making sure that I did not dirty the swimming pool and the locker rooms as they were public property.
Overall, I am glad that I took up this new years resolution and found a love for swimming and water! I also took part in a competition in the summer and have noticed an increase in my stamina, however, this activity also highlighted some aspects of me where I can improve.