Subroto Football Tournament U-17
I planned to attend the morning football camps specially for this tournament, being very excited and pumped up. For this, I got up 2 hours early than my routine schedule and that too without an alarm, straight for 5 consecutive days.This made me realize I am not lazy at all when it comes to something I am passionate about. I had pretty much zoned out of football due to my IGCSE board exams and it was followed by a month of vacation where I went for a tour. I noticed that I struggled with shooting the ball with accuracy and majorly I had lost quite a lot of stamina. The usual warm up felt exhausting. This got me thinking into the importance of fitness and I adjusted some time in my schedule dedicated to workouts. With each day of football, I could see myself play my original game. The camps proved really helpful as it got me back into shape after a long break. Moreover, I was able to set coordination with new younger players that were brought into the team since some of the players went overage for the tourney. I was glad I made the decision to join the morning camps or I would have made blunders in those important matches
I was confident that we have very good chances of winning and so were my teammates. Our main coach was not coming and one main defender got injured, that upset me a little but the excitement of the game took over. The journey to the ground helped me gel in with some of the new players and I think that was very crucial. We needed that trust between each other which would serve as the basis for our game coordination. The coach that accompanied us was rather criticised by most of the players but I saw how interesting and kind he was. Most of what people found annoying, him speaking endlessly, I found it pretty cool and was impressed by his speaking skill-set. I was inspired and wanted to build my speech like his.
We walked onto the ground and it looked no different than our school ground. The goals were huge and it seemed so easy to score. I saw other teams around and they looked very much amateurs. I maybe was stereotyping by their physique but I knew they were no danger. The coaches were called for the drawing of the chits which would set the fixtures. What the result of it was that we had to face the top 4 teams (excluding us) for the 4 matches we had to get to the trophy. It shook me. How was this even possible? How could our fortune be so poor? I believe it was all made up against us. Even though there was chit picking, I presume there is politics in everything. The organizers were football coaches and the coaches of the two top teams of the tournament were in fact the coaches of the city team, who did selection from the tournaments. Plus, we did not have our main coach who was quite a bit friends with them. It did all make sense. I reflected that contacts are important, not to pull something in our favour or encourage bad happenings but sometimes to stop the bad happening
.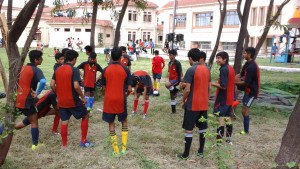 We did not repeat the mistake of doing a lot of warm up and then running out of energy during the match. We stood positive and won the first match comfortably 4-1. This did boost our confidence but at the same time, we were nervous to face the former Subroto champion for our next game. Although we won, my partner at centre forward had a terrible game and he started losing belief in himself. I empathized with him and I could see two things after that – his mood was better and he considered me as a better friend. In the break till the next match, I was tempted by Coca Cola but I knew it made my stomach ache when I ran after drinking it. I avoided it. I even avoided milk for the same reason.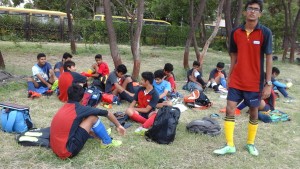 In the next match, The opponents scored within the first 10 seconds of the game and it was paralysing. The very next minute, we lost our main striker – his ligament tore. We already lost in our minds and got under extreme pressure. We could not keep the ball with us. Our game was definitely better than theirs but I noticed how they appeared out of nowhere and took the possession. They were taller than us and stronger than us. We lacked that level of speed and strength. We went 1-0 to halftime where the coach motivated us that we could still make it into the penalties. I could see everybody had lost hope and energy. I kept screaming 'We are still in the game!' but I do not know how much of a difference it made but I tried to cheer everyone up and focus. The captain, unlike others, kept going hard and I was amazed by his commitment and I now knew why he was the captain. Honestly, only the three to four of us were actually trying. Others just played their average game, including the best player of our team. He literally walked to an open ball and lost it. No one ever shouted on him because he was a senior and the most respected – our coach made us ponder about it after the match and it was true. We conceded another goal and the game died there and then for us. We returned 2-0 but however, I was not disappointed by my own individual performance. I did not give up till the end and I'm happy that we didn't lose because I did not give my 100%.
On our way back home, there was no more the cheer. I kept thinking of the things that went wrong and how it could be better the next time, or what could I work on? However, I realised no one is to blame even though they did make mistakes because obviously they weren't intentional. I recollected one huge point that we always lose under pressure. When we are under pressure, we tend to focus more on scoring and just scoring. We panic. What the coach always told us is to build a game and then gradually go for goals. I proposed to the coach to work on drills for body strength which we would never do. This time a defeat did not hurt too much because now I have been through a lot of them and it makes me feel stronger from the inside.