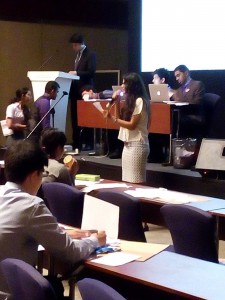 I participated in the fifth session of Harvard Model United Nations India that took place in
the city of Hyderabad as the delegate of South Sudan in
General Assembly I: Disarmament and International Security Council. Although I did not win any awards in this event, this conference ended up becoming extremely rewarding.
While preparing for the conference, researching about the country that I was representing, South Sudan, enabled me to get a deeper understanding about the conflicts and problems that newly made, war-struck countries face. The topic area that my committee was discussing, "Asymmetric Warfare and National Sovereignty" was, in the beginning quite difficult to understand, but after further research, I discovered that although 'law' seems like a universal, eternal concept, changing global scenarios and advancement in modern warfare techniques has caused the foundations on which the concept of 'countries' has been built to become obsolete. Therefore, this conference helped me connect with issues of global significance.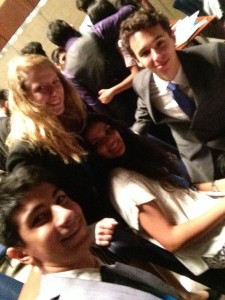 This conference also gave me the wonderful opportunity to interact with people from different walks of life. I made friends who came from different countries and backgrounds and not only learnt about their perspectives on international politics, but also realized that the world today has become so flat, that no matter where we come from, we are all able to dance to the same songs and laugh at the same songs.
This conference taught me the importance of working collaboratively and the need to be patient and tolerant because in a committee of nearly 200 people, resolutions can be formed only if people work together. This conference also inculcated in me important lessons about compromise and leadership while working in a bloc (a bloc is a group of countries that has the same position on a topic). My skills were tested when I had to use my research and knowledge about international relations to come up with creative, yet pragmatic solutions for the topic area.


Overall, I am really glad that I attended the conference, and I hope I'll be able to attend and maybe even win next year.