Activity 5: Organizing 'Ads to Add Up' in Lit. Hum. Fest | Creativity and Service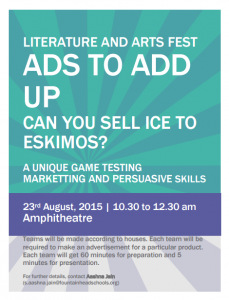 I was the segment coordinator for an event called 'Ads to Add Up' in the Literature and Humanities Fest. Using the activity, I was able to provide my peers with a platform to exhibit their creativity and persuasive skills.
Organizing this event was a unique experience because I have a tendency to micro-manage everything that I do, but in this event, I tried to be a little more liberal. In the beginning, the chaos that was ensuing in the room was agreeable to me because I like order, but then I realized that I need to let participants make noise and have fun for them to truly appreciate the event.
I was able to connect the event which required participants to make advertisements about 'a pen that only writes the truth' to what I've learnt about marketing in Business Management and what I've learnt about advertising in Hindi and what I've learnt about persuasion in English. Out of all the advertisements that participants made, the one that used the elements of humor seemed to be the most popular, because it was directed at a target audience that consists of school children. The best advertisement also used the 4 P's of the marketing mix (Price, Product, Promotion and Place) which was evidence that following the theory that we have learnt in Business Management will lead to better results in practical life.
This activity really helped me work on my tolerance and patience simply because it tested my tolerance and patience at every step of the way. It was extremely difficult to manage so many students who were making so much noise. I learnt that the best way to get people to listen to you is not to speak loudly, but to become quiet. When you stop addressing the crown, individual participants come and ask you their doubts, which leads to better communication.
I also took a feedback session about the activity, and found that most participants enjoyed it. Some of them did not quite enjoy the topic that they had and I think that's something I can work on the next time I do such an event, i.e, I can do 'market research' before setting up the event (More BM connections!).
Overall, I am satisfied with how the event turned out, and I was able to use my creativity in terms of coming up with the topic, rules of the event and the poster for the event to provide a service to my peers.