Reflection 1 (Football Camps)
As I am deeply passionate about sports, I loved attending football camps. This CAS activity meant a lot to me because I desperately wanted to achieve something in the field of my passion. So for an achievement I wanted to get participated in Inter-School Subroto Football Competition as well as states Subroto football competition.
To work upon my weakness and to advance my football skills, I adjudicated to join football camps. Although I thought that waking up early morning for football camps would be very tiring and boring. It was completely out of my comfort zone as I am a person who is obsessed to sleep. However when my passion overruled my sleep I could show the commitment toward the camps, I realized that it retained my freshness throughout the day rather than tiredness. Additionally, these type of camps helps all of us to remain fit and healthy.I also thought that attending a 2 hours camp for 5 days would be not useful as it will not bring a drastic change in my football skills. However, I was wrong because I was attending the competition as well as camps after a very long break (nearly 2 months). So, these camps brought back my form in the sport and made my journey of qualifying for states quite easier. I noticed a great weakness of mine while attending the camps. It was frequent muscle pulls that I faced while playing. This restricted me to play football for a long time. I took some advice from my coach to deal with the problem and now will try to avoid these types of pulls further in my sports career. The camps included numerous things which I could have explicitly learned. The most important thing I learned is the coordination. It helped me to work collaboratively with my teammates. I learned this when our coach, Mr. Anwer Hans made us play offense vs. defense. Additionally, the skill of coordination might help me in future while doing a business in the team. Not only this, but I could also brush up my Football passing skills which is one of the most important skill in any game. There were many problems I faced and many things didn't go according to my plan. Firstly, I missed camp on day 2 due to transport problems but I tried to cover the training in free slots during my school time. So, the entire period of camps was tremendous and worth it.
Additionally, as per my first goal, I got selected in district football competition. My efforts helped me to get myself selected in district competition, and my efforts helped my team to win the first match. To gain this win, we needed to interact well with each other and we did so. The way we communicated with the coach and our partners lead us to our first win. Furthermore, a lot of perseverance and commitment also lead us to our first victory.Sportsman Spirit is one of the main features a sportsman requires. Additionally playing fair was always a primary motto of our entire team including me. I had a chance to give a false certificate to school and play unscrupulously in under 14, whereas I am 15 years old. However, I didn't conduct this iniquitous act and played fairly. I also cut the nails, removed the watch before the game and avoided fights during the match so that we can play a fair game. Unfortunately, we lost deciding the match and hence I could not get selected for the state level. It really disappointed me however, this made me and my teammates go back to drawing board to try to detect the weaknesses which made our journey end so that we do not repeat these mistakes again in other tournaments. Apart from the loss, the whole experience of this CAS activity was spectacular. It really pleased me to achieve learning outcomes through this CAS activity.
Appendix:
1. My football team: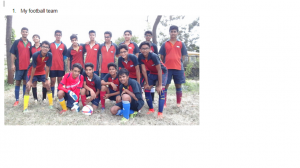 2. Getting ready for our first football match: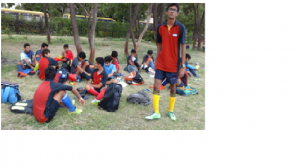 3. Doing warm-up and stretching to avoid muscle pulls.