HAPPINESS ALL AROUND…..
Every child is an ARTIST – Picasso
Creative mela is an event which is a school initiative and is held every year on Gandhi Jayanti to mark the occasion of the birthday of Mohandas Karamchand Gandhi, the "Father of the Nation". This year the opportunity was given to students to organize the event and I was selected as the only event coordinator for the entire event.
Creative Mela is to witness and experience the most exciting hands-on workshops plus this year it was much more fun and perhaps even better than the last year as there were more hands-on activities for all to participate in through workshops.
(Art piece created by students)
There were seven learning outcomes that I achieved from this activity. The key outcome was my indulgence in issues of global importance. Education is a global issue, which encloses the creed for joy, especially for the juvenile children. Education is the most important one can use to change the world. Therefore, I decided to engage in a global issue providing the children with a platform to learn art and value it.
Secondly, I could identify my own strengths and develop areas for growth. I always loved organizing events. My strength is in being always the leader of the group and in directing the team towards the right decision and choices. But, through this event I learned that time management is a very crucial part. It was very difficult for me to simultaneously cope up with studies and the event work. But, through this I learned that we should give priority to things that more important right now, so putting first things first.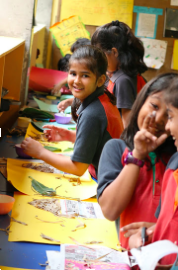 The third and fourth learning outcome that I achieved was, it was a challenge for me to organize such a huge event being the only event director. I was assigned this position one month before the event. But, due to some miscommunication with the school management I couldn't start preparing for it from the start. I had to rush in the last week of the event to complete all the work. To make my job easier, I had asked for some help by sending invites to student to volunteer for the event. Unfortunately, I got only 10-15 volunteers for on the day event work. They couldn't help me with the planning, so I got really upset. Later, I went to one of our event management faculty for some help. She said send an invite to all the teachers too, they may come on the day to take workshops but won't be able to help you plan things. So, the major challenge that I faced was I had to collect all the names of 1600 students by taking their three preferences and allotting them a workshop of their own choice.  So I had to go to each grade and each section to take the names. I utilized the time of my free slots in school and went to take the preferences. But, at times most of teachers didn't allow me to enter the class as they said the students would get disturbed. So I had to book appointments with them according to their timings and my timings. To make it a win-win situation for both of us I decided to come early and take preferences of the PYP students. This saved me from not missing my regular classes of academics plus made me utilize the time efficiently.
The entire area planned according to the activities.
The fifth learning outcome was, I worked collaboratively with others. Through this event I learned that it is very important to have a team that can help you make the event succeed. I was working with a team of almost 40-50 people, inclusive of all the student and teacher volunteers. It was fun working with them, because I had allocated them workshops of their own interests, so that they can make new innovations and take interest in making the child have wisdom and make learning full of fun. However, coordinating with the volunteers was a tough job. I had asked them to send me a plan of what they will teach the kids and what all materials will they need. But, few volunteers didn't make a plan nor send the list. So, I kept sending them a reminder to complete all the necessary work. At the end, before 2-3 days I had arranged for a meeting with all the volunteers to explain and brief them about the on the day job. But, few volunteers didn't turn up. So it became difficult for me to explain them on the day of the event, plus because two volunteers didn't turn up for the event, I had to take the workshop and I had to plan something on the spot. However, without the volunteers, this event wasn't possible, as they were the most essential part of the event. Coordinating with peers who were participating in the activity, gave me a glimpse into what managing a large crowd is like. Moreover, many groups of children came and went, so we had to simultaneously conduct the activity and bid our goodbyes to those who had already completed their share of the workshop.
Students engaged in different activities.
The sixth learning was I showed commitment towards my job. Truly saying, I had put 200% of effort to make this event a success. I had worked for it days and till late night to complete all the tasks. Additionally, I was motivated by always reading the inspirational quotes that said "don't give up and keep trying" as hard work pays off. This helped me work hard for the entire activity to make the event possible.  
Lastly, I considered the ethical implications of my actions. There was one unethical decision that I had made. When I had taken three preferences of children I didn't give the 1st and 2nd preference to few kids, as there was no space in some workshops. So this was unfair to kids who didn't get their interest workshops even after giving preferences whilst few kids got their 1st or 2nd preference workshops.  Additionally, my actions provided the children a memory on which they could dwell for the rest of their lives. Plus, my hard work proved to be a potential inspiration for the juniors and the teachers of my school to organize such an event. This could also promote them to engage in random acts of kindness.
This event was successful and I enjoyed a lot. It still brings a smile on my face when I recall the smiles on the face of those children. The moment of sheer happiness just by providing opportunities and free space. I learnt a lot from this activity and for me this was purely worth it. I will cherish these memories for my entire life.