CAS Profile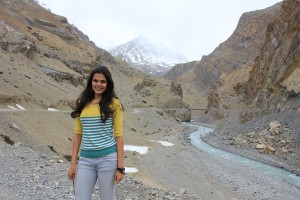 Me, my talents and my interests
Hi! My name is Aashna, and I'm 17 years old (well, I will be, by the time I finish CAS). People say I am particularly good at reaching things on shelves that are high up, reading pretentious books, and explaining things to people, (which is ironic, because they also say that I'm one of the most impatient people to have walked on this planet).
My greatest pleasure in life is travelling. And I am no lightweight traveller; I become super-immersed in the culture, beauty and history of the places I travel to. You could say that my in-built nerdiness follows me even when I am on vacation. I also enjoy laughing. By that, I mean, I enjoy seeing stand-up comedy, comic TV shows and reading books that tickle my tummy.
My outlook on life
I strongly believe that it is of utmost importance to live a balanced life. However, this is easier said than done when you're in DP. That is why, when I find myself out in the rain transplanting trees a day before a Business Management test, or sitting quietly and colouring in the portrait of a flamenco dancer right before my EE submission, I feel extremely thankful to CAS for making it mandatory  to live a little.
Having said that, I believe that I still have a very long way to go to achieve the balance that I so idealistically preach about. Therefore, I believe I would like to be more involved with sports and service based activities in the future, and improve my skills in these avenues. My endurance, for example, has taken a nose-dive ever since I joined that DP, and I believe that the remedy for that will be investing more time into practicing sports that I enjoy – like tennis, and football. Moreover, through the medium of CAS, I have been able to take up visual arts, which I have found to be extremely therapeutic and calming. I'm sure if I improve my fine motor skills, I'll find the arts even more calming as that sense of resignation that I associated with my artistic abilities will be mitigated.
My goals, and my dreams
I feel really strongly about education for all. Therefore I would like to go beyond just 'feeling strongly' and become more involved in making the world a better place in this aspect. However, I believe that when it comes to taking baby steps to solve an issue of global significance, it is important that my actions are as effective as possible, and therefore I would like to learn about the teaching methods and techniques that I can employ to effectively teach students who don't have access to adequate education.
I am a history geek, and therefore I really want to try to increase appreciation for Surat's heritage in its people. It is my dream that the beautiful, priceless Dutch, English and Armenian cemeteries in Surat's old cities are preserved and well taken care of in a manner that people are able to appreciate the great history of our city.