Activity 11: AS Visual Arts | Creativity
Visual Arts used to be something I loved to do as a kid. However, for a long time, I had become disconnected from the field as I was caught up in a never ending stream of assignments and examinations.
CAS in Grade 11 and 12 gave me the opportunity to formally take up VA – something that had been restricted for too long to the end pages of my notebooks. This formal training enabled me to greatly develop my fine motor skills, as I dabbled in various art forms – ranging from wood-cut printing to fashion design. Before these two years of VA classes, I always thought of myself as someone who had a lot of ideas about art, but lacked the skills to make them a reality. Through systematic exploration of various art techniques – such as using photo-ink colours, polishing and carving wood, and painting on thin muslin cloth, I was able to use my skills to express these ideas.
Another learning that VA has given me is that of perseverance and patience. Because I was committed to making each of my art pieces the best versions of themselves, I was forced to go against my impatient, ineffectual attitude towards work to attain the desired perfection. Moreover, the weekly VA classes that I religiously attended for two years provided me with a much-needed breather from the humdrum of everyday life: in the VA room, sitting quietly and painting away tiny pastel flowers, the problems of the mundane don't seem to matter all that much.
That is not to say that art completely disconnected me from the real world and its problems. As someone who cares deeply about humanitarian causes, I tried to incorporate messages about the world into my art. For instance, after the Paris attacks in Nov 2015, I made a woodcut print depicting the Eiffel Tower caught in Van Gogh-esque swirls to pay homage to the victims and their families. Speaking of great artists, I was also forced to consider the ethical implications and the thin line between 'being influenced' and 'copying' as I explored artwork by artists ranging from Dali to Mondrian. More locally, I had to be careful that I wasn't subconsciously but unethically borrowing ideas from my exceptionally talented peers 😛
In all, I think this was a really positive experience for me in terms of development of new skills, commitment and perseverance and ethical implications.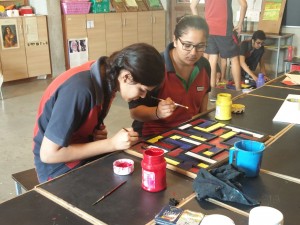 Click here to view my VA Journal