Serving and cheering the runners is the best part!
"Out on the roads, there is fitness and self-discovery and the persons were destined to be" – George Sheehan
Waking up early-morning at 4:00 AM made me feel stressed. I reached the venue by 5:00 AM. The roads were all empty and blocked due to the marathon. Runners had started gathering at the venue, but i couldn't find any member from our school team. Later, one of the organizers came and informed me that our AID station is 12 Km away and our school team has already reached their. I got so frustrated that why didn't sir inform us about it before hand? But then when I reached at the AID station I was more amused. We were supposed to get a proper tent,  but we ended up getting few tables under which there were water puddles. It was a matter of concern for me because dengue and malaria was spreading in our city and the water puddles increased the risk of raining too. But, as a team we thought of a creative solution, by covering the puddles with chairs. We were getting bored because none of us had anything to do. We didn't even get our music player, which made the time go more slow. Now that the marathon was going to start by 6:00 AM, we started to unlock the bottles.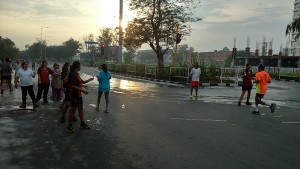 Waiting…waiting…waiting… for the runners to come. And the 1st runner arrived at 6:45 AM. Fast runners usually don't prefer having water bottles is what i think, as he didn't take the water bottle. But when the whole bunch of runners came, we started offering them water and they did take it. We were cheering them to get motivated and boost up their confidence to complete the marathon and not stop running. And when I was back home, i realized my voice box isn't in a good position now. 😛 While the runners were coming, I saw 2 runners from whom 1 uncle was of 80 years old and 1 uncle was blind who was in his 70's. I couldn't describe how happy i was when i saw them. I just forgot everything and I started staring them. They weren't running, but they were walking fast. And the best part was they weren't the last ones. There were still 60% runners who were behind these two people. At this age, being this fit is commendable. Plus, while providing water, the runners thanked us….I felt really good because i could help them at that moment. Coming to an end, the other AID station was giving a head bath to all the runners. The water used was fresh. Standing there, i was thinking about how the fresh water was being wasted and what are the environmental causes of it. What i thought was we could have used Hard water to give a head bath and save the fresh water. The runners really enjoyed the marathon. Even we enjoyed it so much. CHEERING THEM WAS THE BEST PART.