Reflection 3 (Lit fest- Anagrams)
This event was an Inter-House competition in the Literary Fest conducted by our school. I participated in the event to contribute to the house points. The experience was tremendous and worth learning. There were three rounds where we were provided with the set of jumbled words, which we need to arrange in given time.
Pre Handedly, I thought that the event would not be exciting might go boring for me as I don't like English language at all. I considered the event to be out of my zone. Being challenged this way was difficult although I wanted to experience something new, something which is alien to me. Additionally, the activity also meant a lot to me, as it was an 'Inter-House' event, and I anyhow needed to win it.
First of all, I hoped a win from this event. Secondly, I hoped to come across new English words which we are arranging. These were the two main rationales for which I took part in this CAS activity. To achieve this, we needed to coordinate with each other. Without cooperation, there was no scope of winning the event. So accordingly, we coordinated with each other by distributing words among each other, so that we could complete the task easily; and because of playing as a 'team' we got the results in our favour. Our house was the one who arranged a maximum number of words in the event. Hence, we successfully got a victory in the event. Moreover, I could also come across various new English words, which I could use in my English essay.
I could distinguished some of my foibles during the event. As I am not so good in English, I could arrange the word but was not sure whether it made sense or not because of low vocabulary I have. However working as a team, allowed me to ask my teammates about the words and therefore coordination also helped me personally to know new English words.
There were great chances of finagles occurring while this event because all 4 houses sat beside each other. This could have made easy for house members to hear the arranged words from other group members. However, I as a person would not prefer to cheat and rather play virtuously. Not only me, but my entire team played virtuously by concentrating on just our jumbled words. This gave us the result in our favour, and we achieved the victory.
Appendix: 
1. Rearranging jumbled words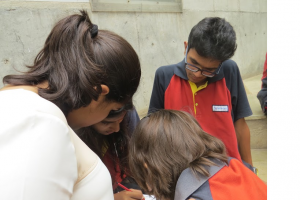 2. Contribution of each member