Maker's Space – Foosball Table- CAS Project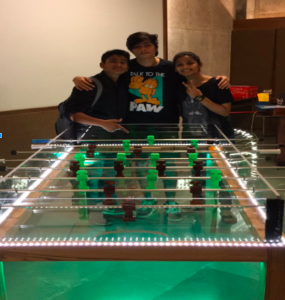 Making something using tools and innovative that is all I wanted, and school had offered this to us. So we three Vitan Patel, Pranjal Bhansali and I, we wanted it to be something where a user could enjoy and the product should be fun too. We went through about 1000's of ideas on the internet still we didn't find anything interesting as it was something which was already. Then we decided to put forward some ideas which we want in our project.
it should be very attractive.

It should be filled with a lot of fun.

Anybody could play with it and they should enjoy it most.

Something innovative, by improving the existing product and making it more interesting.

We decided to not make our project which is very easy to build as we wouldn't be learning anything new so we decided to do something with carpentry as this could be used as a survival skills as well as sometime later it could be useful in the future and is fun too.
So we saw a foosball table and one of my fellow memeber told that, somewhere there is a Foosball world championship taking place, that way we came to knew that it an official sport too. But foosball are small in size and only 4 players could play it, then we came up with increase in the size of the table as well as the number of players- 8, this thing was great for a party fun. The main objective of this project is learn about learning some new skills which is commonly used but still no one is well aware like carpentry looks easy but it was not.
We started working on our designs from four months prior to the date of exhibition which was on 6 feb 2016 .We thought of only using wood and acrylic to make the base and the boundary transparent, which will make its appearance the most different and out of the world idea. We pledged to give our 100% in the work which will reflect upon the outcome of our activity. From end of december we finalised our project got it approved and ordered basic materials like Wood and acrylic. So leaving everyday routine and balancing the studies to do and the work on this project was a new experience for me by showing determination towards the making of this table.
We had never carved or tried our hands on carpentry before, this was my first time on learning wood cutting and giving it a nice shape. We asked our advisor to give a helping hand to this project, So we learned from a skilled carpenter from school itself, how to cut a wood where we thought it would be easy and there are machines to help, so we thought it would be not that difficult but when we tried our hands on the machine it turned out to be the most difficult part because the machines looked small, but to control the wood saw machine was at times the hardest part, keeping in mind – safety has to be there because it could lead to major injuries. We had to work a lot on the project. We started from buying accessories, despite we have to study we still managed to balance and went out looking for these things like: electrical wires, led's and sensors for the goal as we thought when a goal is scored, the light gate sensor will work and the led's would light up, so we went out in search of these things in the list we thought to stick on the budget for the accessories for under Rs.1500, we divided our work and I went in the search for led's and drive and wire, one partner went for the foosball ball and other for the light-gate sensor. Few things were available in the market and some were not. But we managed with other things and as per time constraint we compromised some things and though to add the features later.  
We faced many challenges during execution, because materials ordered by school for us were not a good quality and some materials which we expected, like rods were having different lengths or some part would take more time to be cut, shape and to be finished. This way we had to speed up our work and wanted to complete it on time. We decided to come every early mornings and stay late evening to make the unique table which is not just a table but a piece of art which is very different. Dividing work in a group of 3 made our job easier. As one would work upon the acrylic cutting one on wood and other on polishing and joining all parts together and nailing it.
Execution was the most difficult stage, we faced many obstacles during our making. One week was left for the AS exhibition and we were still having many troubles regarding the players, we decided to make 3D printed players, but running out of time, one 3d players takes about 4-6 hours, so we can't afford to make players during school time. We decided an alternative where one team will be made from discarded wood and that way we could reduce the use of plastic and wood could be attractive to, so we chose the abandoned wood pieces available in school carpentry workshop.One day before the exhibition, we finished gluing everything and fixed the whole table, and polished it. "Looks Spectacular" we all said. On the day of presentation: the foosball table looked stunning and audience came, where they enjoyed playing it and it was the most eye catching thing among all the other projects. And our work finally pays off!