Reflection 4 (Lit fest: Ads to add up)
It was a longest Inter-House event conducted in literary fest where we were given a product for which we needed to make an advertisement in an as creative manner as we could. It was a group activity. It was again an electrifying encounter for me as I came across multitudinous new things.
I thought that activity would be good but doing it for long two hours would quite make it monotonous. Sitting for two hours to make an advertisement for an imaginary product (a pen which only writes truth) was quite tedious. However, this event meant to me a lot because it was an Inter-House event and, therefore, we wanted to win it. As there were new people in my team, I found myself quite uncomfortable to talk to them. Moreover, it was a first time when I made this type of advertisement at a competition level; this made me feel very apprehensive. Feeling this challenge was quite excruciating for me however it benefited me to make new friends. As time passed we were coping with each other to make an effective advertisement. Coordination was a key which brought me back into my comfort zone. I could talk with the 7th Graders without any hesitation. This lead to a nice, effective advertisement.
Moreover determination was a second key for me and all of our teammates to make an effective advertisement. We needed to show some interest and passion in the composure of ad so that audience can easily buy our idea. Therefore, I gave my full devotion to my work and did it at my best.
We made our advertisement which was reasonably done well, but the way we presented was quite extraordinary because we included an element of drama. This made our entire work very efficacious. Therefore, finally we won the first prize; I could also learn marketing and presenting skills. Hence, this activity was full of entertainment and worth learning.
Evidence:
1. Our advertisement chart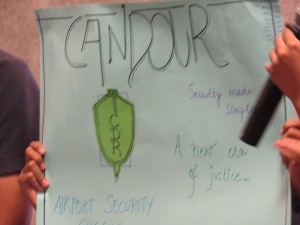 2. Our presentation