CAS Project: Leg Tennis Tournament
Proposal: During the playtime slots, our grade plays various games, Leg-Tennis is one of them. After witnessing the growing interest and the increase in the bond between the classmates due of this game, my friend and I using our creativity and collaboration, came with the idea of organizing a Leg Tennis tournament. It is a unique game and is something which has never been played in the FS. After discussing the idea with the authority the idea was finalized, which referred to the two strands creativity and action.
Planning stage: The planning started with taking a poll of the people who would like to participate and a lot of people showed interest. Later on, we prepared a google form and recorded the responses of the participants. Using the word of mouth technique we had spread the news of the tournament across the school.
s.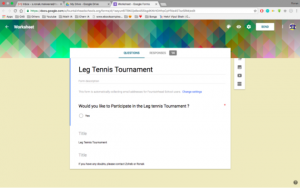 and the responses were good which can be seen below.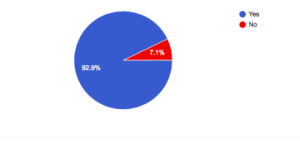 As seen in the above images, majority of people wanted to participate in the event. After getting responses we decided to make the arrangements of the tournament. For example, deciding the rules for the game (as it was our creation), we needed a huge place as lot of people wanted to participate, etc. Deciding on a place was proving to be trouble for us. We needed a wide space, which was not available in school, and doing it outside school was expensive, hence that was not a feasible option (as we didn't have enough funds). To overcome this limitation, we decided to put a restriction, that only our grade students can participate, as this game was something that illustrated our bond and coordination amongst us. We all used to play Leg Tennis together and we had to be fair to them. We had to also decide on the dates of the tournament. Prioritizing the work is important, as habit four suggests 'put first things first', both of us had our submissions and deadlines coming up.  We were facing a clash of the dates, but we had to find a 'win-win' solution, therefore, we finalized dates that were between the days of our submissions.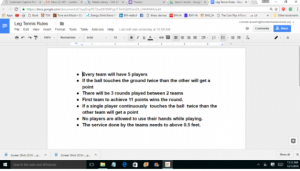 After taking a call on everything and doing the planning, we made a poster to finally make an official announcement of the tournament. I was a proud moment for us. The poster were stuck on various public gathering places in our school, like the dining area, library, etc.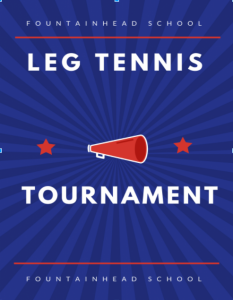 Execution: The D-day was here. We were very nervous, yet seeing the enthusiasm in participants made me feel excited. Now one of the most important thing was to collect players in a very short period of time. However, with our collaboration and commitment we were able to overcome this problem by requesting a Grade 12 students to participate in the tournament, changing the teams and deciding a suitable location for the tournament. We were not able to get any official referee for this game, because Zoheb and I were the only ones who knew this game well, which is why we took this initiative to be referees too. We decided that no one will be biased. Maintaining the decorum during the event and being calm under these situation was necessary for me, being a leader and a manager. My take from this event was to arrange everything properly, we did not share proper forms and did not take interviews and there was lack of planning for the location and participants. So more planning will surely help any event to be more successful.
Overall, it was a fun experience, that helped me grow as a person, and improve my leadership skill. During the tournament I made some experiences that will stay with me for a long time.