What's the good word? (Lit_Hum fest 2015)
"What's the good word?" was a competition in the literature and humanities fest 2015 ( 22nd-23rd august ).
It was undertaken by me and Maharsh. This competition required a lot of planning and coordinating which helped me achieve LO3.
In the first stage, we had to gather participants and constantly mail them about the details of the meetings. We had a few problems in organizing the meetings as we could not co-ordinate the timings of all the participants as they were from the 7-12th grades and also, since the art fest was going to take place at the same time.
But we took help from our mentor teachers and found solutions to these problems, which helped me achieve LO2
After we had 3 meetings to explain the rules of this competition, our next phase included publicity where I made a poster and posted on the blog urging people to participate, as this was a fresh and very interesting game. Next, we held the semi final rounds and selected 1 team from each house for both the middle years and the higher grades.
We then proceeded to find words and prepare for the competition day by arranging for the chairs, mikes and other requirements. The competition was fun and we received great feedback from the audience as well as the participants.
Overall, even though we had a few problems in the beginning, we overcame the challenges because Maharsh and I had systematically divided our duties and tried to be perseverant and committed so we got our work done quickly and also owing to the fact that the other art fest coordinators had been very cooperative with us.( addressing to LO4) I am currently working with Maharsh on another activity as well.
The organization of this competition helped me identify my strength which is leadership and also helped me learn how to plan an event as it was a new experiences for me which in turn helped me achieve LO1. Along with that, I learnt meanings of lots of new words while researching for the competition, which helped me develop my vocabulary which are helping me while I'm preparing for SAT. I also enjoyed making the posters and have made posters for other events after this one. These skills helped me accomplish LO8.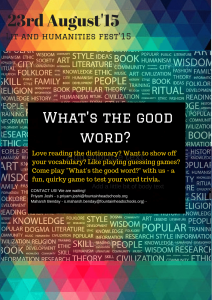 One lesson that I learnt is that in an event like this…it is important to have some fun activities planned for the audience as well so that they don't get bored.
To conclude, it was a fun event and I'm really glad we got voted as the best organized as well the most favourite event.