SGFI State level Skating Tournament- Under 19.
My coach of Skating had been encouraging me and trained me to improve my stamina and strength in Skating. The competition required me to have a lot of strength and stamina for the long race (1 km), Short race (500 m), Time trial (300 m) and Road race (4 km to 5 km). I was slow compared to the average time required for a Time Trial race and short race. I had 3 months to the competition and in the 3 months, I had to prepare a lot. I started preparation by increasing my time for jogging, increased counts of lower body exercises and started doing squats which helped me in maintaining my position while skating. I started my preparation in June as the competition was in September. In  First 2 months it was difficult for me because I wasn't used to doing much lower body exercises and because of difficulties I had soreness in my Inner thighs and hamstring muscles.
I attended morning Skating camps for extra training and due to that I faced two challenges:
1- Disturbed routine, because my school timing was at 9 in the morning but because of morning camps I had to come to school at 7:30 AM.
2- Muscular pain/soreness, because I had to train myself a lot in less time.
I had to continue my training a till the end of the competition because Skating requires a lot of training and I would have faced a lot of issues in competition if I had left in between because my training would have been disturbed so it would have affected my strength and routine (Skating routine of camps).
I won at the District level and then had to compete players from other cities(Of Gujarat) in State level competition. The state level competition was held in Baroda (Vadodara). State level was just 1 month at the district level and I had first term exams just 3 days after the State level competition. I faced some challenges which are:
1- Disturbed study routine: I had my exams just 3 days after the state level competition.
2- Disturbed routine of training, I couldn't train myself a lot because it rained a lot in between due to which skating rinks got wet and eventually led to the disturbed routine for skating.
I couldn't race in State level competition because the races of Junior (U-11 and U-14) started at 3 PM and went on till 9:30 PM and after Juniors race it was turn of Middle aged (U-16) which started at 10 PM and got finished at 12:30 AM and after that no races were done because the rink had to be closed as it was late night. The race for Seniors (U-19) was postponed to 31st October and I couldn't attend the competition of 31st because I had exams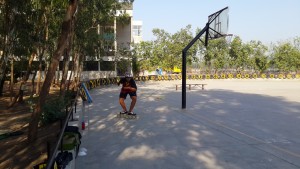 .