Activity 9: Winter Trip to Naggar| Activity
Having been to the Himalayas 14 times before in my short life of 16 years, I can gladly say that going back to the dazzling snow peaks and scenic valleys felt like home. On the class trip to Naggar, I indulged in walks, hikes and treks in the backdrop of rustic villages and quaint backwoods. Walking in the mountains seems very pleasant and charming, but the strength and rigor it demands can make it anything but that. On a trek to Rumsu village, the almost vertical climb on the trail was very challenging for me because I have not been working out for so long and therefore I got the opportunity to work on my fitness in such a beautiful scenery.
Furthermore, every evening, fitness sessions with specialists (however unpleasant they seemed while we were panting in the cold) really helped me improve my fitness. Overcoming the physical challenges really helped me push myself and learn new skills that I am able to use every day such as certain Yoga stretches
The adventure activities (skiing, tubing, ATV ride) really got my adrenaline pumping and helped me appreciate how hostile and tough the Himalayan winter is.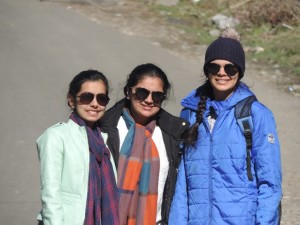 A highlight of this class trip was reconnecting with my classmates; people who I am surrounded by 24×7 but don't really talk a lot to (I'm going to blame IBDP for that!). On the trip, because we had so much time in the train and bus and at Naggar, I was able to spend quality time with my friends and this helped me realise that for all my talks for being independent and not needing anyone, I really do enjoy having friends around. My classmates were also a source of motivation during the treks and adventure activities when the adventure element was a little too much for me, and I believe I was able to do the same for them too.
Another thing that unintentionally became a major part of the trip was Ethicality. Going to the Himalayas is such a surreal experience because the hills and forests are untouched by humans, therefore we should make any and all efforts possible to keep it that way. We also realised that we couldn't classify the advent of tourism in the Himalayas as pure evil because it has undeniably helped raise the standard of living of the local people there and therefore instead of stopping tourism completely, we need to make the industry sustainable.Therefore, during this trip, we tried our best to reduce or carbon footprint by switching off the heater when required, picking up wrappers if we saw any in the jungle trails, not buying water bottles, etc.  Another thing that I did to help the local tourism industry was to buy things exclusively from local cottage industry emporiums.
Overall, the trip was very enlightening, because I got to learn about religion, culture, nature, art and have an amazing time with the treks and adventure activities.